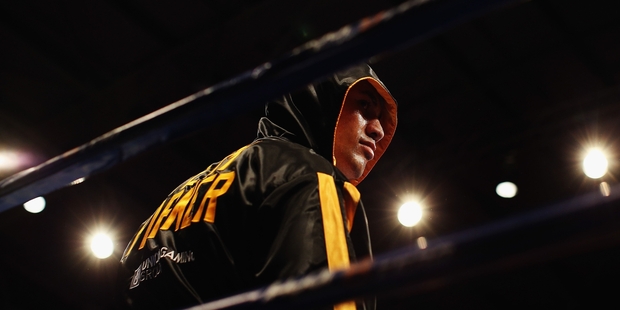 Rising New Zealand heavyweight Joseph Parker is almost set to fight a dangerous Ukrainian at the upcoming world heavyweight contest in Germany - but it won't be world champion Wladimir Klitschko.
That honour will go to 36-year-old Alex Leapai, born in Samoa, raised in Auckland for a time and now an Australian, who will take on the imposing Klitschko on April 26 in the small city of Oberhausen. Leapai, here for the nines this weekend, will set up a training camp in Auckland ahead of the Klitschko fight, further strengthening the Kiwi ties to the fight card in Germany.
Parker is aiming to fight another heavyweight with ties to Klitschko - the undefeated Andriy Rudenko, a tough 30-year-old contender who has yet to face anyone of note outside of Eastern Europe, though he was set to fight British bad boy Dereck Chisora before Rudenko was injured.
The Parker-Rudenko bout is not yet certain but looks a good bet for the Klitschko undercard. Rudenko (who has won all 24 of his fights, 16 by knockout) is a member of the K2 stable owned by Klitschko brothers Wladimir and Vitali, and run by general manager Alexander Krassyuk.
He doubles as manager for the brothers and Rudenko, and was in Auckland behind Belarusian giant Alexander Ustinov when he ended David Tua's career so clinically with his long jab.
The commercial hook-ups are obvious - Krassyuk was reportedly pleased with the organisation and other aspects of the Tua-Ustinov bout - and stem from a good working relationship between Duco Events (who promote Parker) and K2. Duco have the TV rights for the fight in this part of the world and a strong New Zealand-Australasian flavour to the evening will be an obvious boost to pay-per-view sales.
Leapai is about as unlikely a story as you can get in boxing, even though some detractors are rather oddly claiming that he shouldn't be getting a title fight. To everyone's surprise, he beat undefeated Russian Denis Boytsov in a bout to find the mandatory challenger to Klitschko's WBO title (he also owns the WBA and IBF titles). Boytsov took the fight almost as a training exercise.
Leapai was the journeyman whose journey was expected to be brief. However, he landed some of his power shots, dropping the 27-year-old Russian twice in his first defeat in 33 bouts.
"We had a game plan which was to take the centre of the ring away from Boytsov," said Leapai's experienced Australian coach Noel Thornberry. "Boytsov is the sort of guy who likes to take the centre of the ring but when Alex took it - and when he started to feel Alex's power - he began holding on from the first round. I'd say from that point, he was fighting to survive more than he was fighting to win."
If his unanimous points victory was a triumph for the uncertainty of sport, it was also a validation of bravery from Leapai - no stylist but with real power in his heavy shots. Leapai was suffering from an injured calf muscle (ask any footballer of any code how constraining that is) when he fought Boytsov, sustaining the damage sparring with Solomon Haumono - the Aucklander and Manly, Bulldogs, Tigers and Dragons forward who dabbled in heavyweight boxing for a time, becoming Australian heavyweight champion in 2012.
Leapai felt the injured calf snap again during the Boytsov fight and his exchange with the hard-boiled Thornberry has gone down in Australasian boxing legend.
"Noel, my leg's gone."
"Who gives a s***? Use the other one. We'll fix it tomorrow. We are here now. We have to do this."
Leapai did it all right - and now is an even bigger underdog against Klitschko. Parker, 22, and still only a few fights into a fledgling but highly promising heavyweight career, is still putting together a credible record. He has won all seven of his fights, with the only recognised scalp that of South African Frans Botha, then 44 and well past his best.
Rudenko will be a real step up - but Boytsov's disaster shows the danger of building a track record consisting entirely of unknowns. The Russian had not beaten anyone of note in his 32 fights before Leapai. Rudenko has not fought outside the Ukraine but was due to fight Chisora before injury intervened.
Chisora is the trash-talking, controversial 1.87m heavyweight who is perhaps not quite top drawer. He has lost four times - to more recognised contenders such as David Haye and Tyson Fury (the 2.06m, 117kg giant who is the top UK heavyweight). But Chisora won respect for a brave showing against Vitali Klitschko when he fought for the WBC crown in 2012, losing a unanimous decision but winning a couple of rounds.
Not everyone rates Rudenko's credentials. One boxing commentator wrote at the time: "This looks like another mismatch for Chisora in putting him in with an undersized guy with an inflated resume of empty wins. We're talking about a fighter who isn't ranked in the top 15 by any of the sanctioning bodies."
However, K2 are not known for fielding puddings and, if the bout comes off, will give Parker his biggest stage yet and an opponent on the way up rather than one heading in a different direction.
Chisora, meanwhile, was due to meet US heavyweight Kevin Johnson in London this morning (NZT) in another match with a strong Australasian connection. Johnson has been decried by many as a large man (1.91m, 112kg) of plodding skills who also made it through all 12 rounds with Vitali Klitschko in 2009.
But he has an effective jab and is the only person to knock Haumono out; he is also one of the only two people to knock out Leapai - making Leapai's task against the even better jab of Wladimir Klitschko seem even harder.