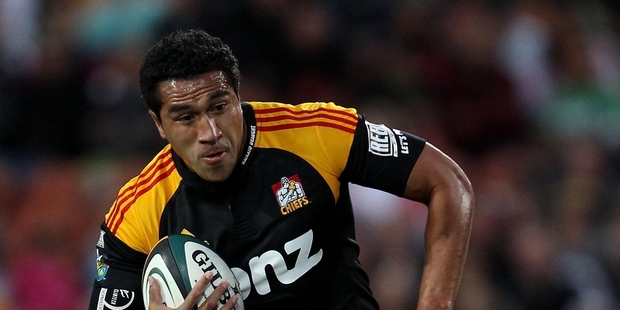 Mils Muliaina has returned to the Chiefs to find an air of underachievement replaced by an aura of invincibility.
Much has changed since Muliaina swapped Hamilton for Osaka after the 2011 season. A new coaching regime and a revamped roster have helped deliver success to the side and to entice Muliaina to return to the franchise where he spent seven seasons.
Just one of those culminated in the play-offs but, after observing the overhauled Chiefs first-hand for the past week, Muliaina has cause to be confident about adding to the title he won with the Blues in 2003.
"There's been massive changes," he said. "The way they go about things, the attitude and the culture has been something that I certainly noticed since being here.
"They push each other to be the best and are constantly asking questions of each other."
The 33-year-old has been somewhat restricted since starting last Monday, with a couple of niggles keeping him from contact training until the end of the week.
Being in the environment, though, has allowed Muliaina to soak up an atmosphere of achievement.
"There is a bit of an aura there," he said. "But they're not arrogant about it - they've definitely made me, and also the new guys, feel welcome."
The homecoming would have been especially enjoyable after an indifferent stint with the Docomo Red Hurricanes. While Muliaina admired the culture, the rugby was lacking.
"There's a whole lot of other factors that you've got to take in account when you go over there. You don't play too much rugby, because there are only two foreigners allowed on the field at any one time.
"The rugby was a little bit frustrating, if I was to be honest. I was really keen to come back and I think the fire was still burning in me to play some top-end rugby."
Muliaina wasn't worried about the overseas stint softening his strength, but he did acknowledge he would be in store for an adjustment period to the physicality of Super rugby.
The speed of that adjustment will determine the part Muliaina has to play in the early stages of the season, as will fierce competition for places.
"From what the coaches said prior to me coming here, I'm really covering centre, wing, fullback ... Certainly for me, my focus is to try to impress the coaches, train well and strive for a starting position. That's purely my goal for the next month or so."
As for team targets, Muliaina hardly hesitated.
"The way that they train and the pressure that they put on each other, there's no doubting they still strive to be No1. That's the obvious goal this year."
- APNZ