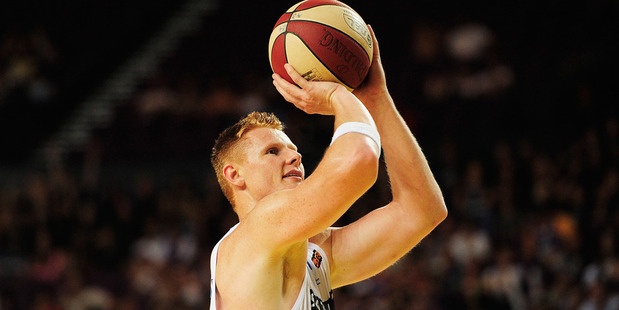 The Breakers will require a huge helping hand from the rest of the competition if their title defence is to extend beyond the remaining six weeks of the regular season.
Their playoff fate has been out of their control, to a certain extent, for some time now, but last night's loss to Sydney elucidated just how powerless the position is for the defending champions.
The Breakers (8-12) have eight games left; Sydney (10-9), in fourth, have nine. And considering third-placed Melbourne (12-9) are all but out of reach, the Kings' spot is the only available avenue into the finals.
Both teams have similar remaining schedules - playing three teams with winning records - while they have one remaining meeting, at the North Shore Events Centre on March 13.
Even if the Breakers claim that contest, the champs can drop only one or, at the most, two games down the stretch, barring a monumental Sydney collapse.
If Sydney conclude with six wins and three losses, the Breakers would have to sweep the rest of the schedule to match them on 16-12, at which point the Kiwi club would advance on head-to-head record.
If Sydney go 5-4 on the run home, the Breakers will need to manage 7-1. A 4-5 finish from the Kings would open the door for the Breakers to go 6-2 and see the two sides finish level on 14-14.
The equation would have been much simpler had the Breakers won a game that was there for the taking last night. The Breakers made just one of their final five shots, relinquishing a lead they held with two minutes on the clock.
Kerron Johnson still had a chance to win it with five second left but his jumper was well short, squandering a 33-point night from Gary Wilkinson.
"We played well enough to win, there's no doubt about that,'' Dean Vickerman said after the game. "We had shots to win it but they didn't go for us.''
Troubles in the final minutes of games have been the Breakers' undoing this season, with the champs no longer the master closers they were for three straight seasons, so it would be appropriate if one last late loss proved the eventual death knell.
Meanwhile, Steven Adams has called into question his involvement in September's World Cup, telling American media his availability was uncertain.
"I'm just focusing on the NBA,'' he said. "What is it, in September? I'm just going to make a decision then. Well, actually not me, it's me and the Thunder. We're trying to work together.''
The Tall Blacks last week drew the United States in pool play at the event, meaning Adams could face Oklahoma City teammates Kevin Durant and Russell Westbrook.
- APNZ