Opening loss to Fiji steels Tietjens' men in bid to get their Wellington title back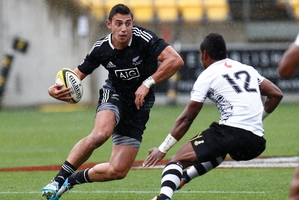 If their opponents needed a reminder of what the New Zealand sevens side can do, they were given it last night.
After dropping their opening game of the Wellington tournament to Fiji 12-7 at the Cake Tin yesterday afternoon, the home side blitzed Spain 55-0 and sent a statement to their rivals: They want their Wellington title back.
New Zealand haven't won at Westpac Stadium since 2012 and their clinical victory over the Spaniards, which resembled an organised training run at times, was a step up in quality from their earlier effort.
The loss to Fiji subdued the home crowd after the defending world series champions, chose to rest veteran pivot Junior Tomasi Cama. This provided an opportunity for Hawke's Bay's Gillies Kaka.
Kaka didn't play poorly, but New Zealand missed Cama's steady hand. Coach Sir Gordon Tietjens took a cautious approach with him after he missed the Las Vegas tournament two weeks ago through injury.
"Junior you've got to remember hadn't played for six or seven weeks. He hadn't been able to do any running whatsoever on a calf injury and I'm really mindful of that as well," Tietjens said.
"He's not game-conditioned properly yet. I made him play the entire game against Spain, so that's going to help him on the way."
After warming up in their shorter sprigs, drizzle forced the New Zealand's players to change their boots quickly to longer studs ahead of their outing against Fiji.
"We prepared really well for the Fiji game and I think what was quite disruptive, perhaps to the game itself, was the rain coming down," Tietjens said.
"When the weather comes in like that it's a real leveler and I knew it was always going to be close and they took their opportunity."
Tietjens also wondered whether resting Cama against such a dangerous side like Fiji was the best idea.
"In hindsight, with the conditions they suited Junior a little bit better but I'll never forget as well that he's probably got the mind for it when it comes to the real experience and Junior's obviously a good reader of play, particularly against Fiji."
Despite the loss, which cost them the top seed in Pool B, Tietjens wasn't worried about his side's form.
"I thought we played pretty well at times against Fiji, which, I suppose, it's that close and it was going to come down to one or the other and unfortunately we obviously blew a couple of opportunities that we had earlier."
Against Spain, Sherwin Stowers scored a hat-trick and a collection of others crossed for tries during the one-sided rout. Cama also looked sharp against the Spaniards.
Fiji were set for a quarter-final against Argentina today, while New Zealand seemed likely to meet Canada in their knockout game.
- APNZ