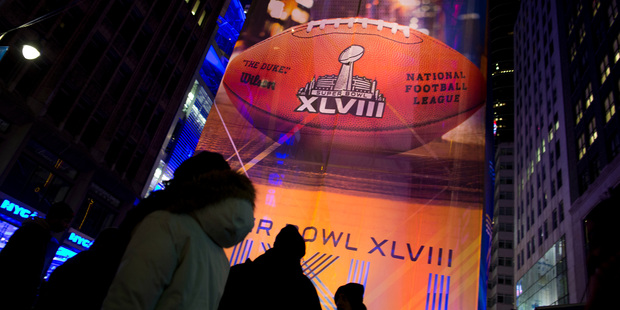 It's the day before the Super Bowl in New York City, and everything's a bit mad.
There are guys with makeshift corner stalls selling merchandise of questionable authenticity. There's a 60m NFL-sponsored toboggan run in the middle of Times Square, and a few hundred thousand fans moping around the city's icy attractions and paying more than they should for accommodation.
Add to the madness the chance of snow falling on tomorrow's game, the fact that despite being billed and promoted as "New York's" Super Bowl, the game is being played in New Jersey, and the somewhat intriguing coincidence (at least, I assume it's a coincidence) that the Denver Broncos and Seattle Sea Hawks represent the only two US States to have legalised marijuana.
Yes, Weed Bowl 2014 will be one to remember.
Unless you happen to be playing the game, in which case there's the real possibility you won't remember much at all.
Such is the nature of football in the US, as professional and college-level organisations face growing evidence of their sport's appalling long-term health effects.
Former NFL players have inflated depression and migraine rates. Some researchers claim higher instances of suicide, and former footballers are more likely than others to suffer dementia.
The science behind football concussions and long-term brain damage is so compelling that President Barack Obama says he wouldn't allow a son of his to play football.
The NFL has offered almost $1 billion in reparations to thousands of former players who have permanent brain injuries. The judge considering the offer has indicated it is not nearly enough to cover the damage.
The problem with football is the padding. Not because it makes players sissies, or because it protects the tackled man.
But in much the same way that padded gloves make it easier for a boxer to kill someone, football helmets and shoulder pads protect the aggressor, the player making the hit. They're weapons.
And for all the rule changes and bans on helmet contact, players are still frequently knocked out of their senses.
In two years in America, I've come to love American football. It's strategically enthralling. It's battle, in digestible form. But if America's winter game can learn something from our own, it's that when considering player safety and padding, sometimes less is more.