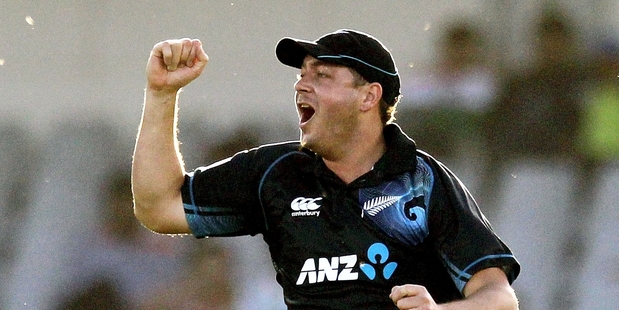 Staggered. Jesse Ryder is too good, and New Zealand not good enough, for the gifted leftie to be left out of the test squad against India.
If the returning Ryder is regarded highly enough to be named as 13th man cover for expectant father Ross Taylor, then he's good enough to be in the 12 for selection fullstop.
His test average of 40 puts him in a rare roll of honour in New Zealand cricket, and we've had few players of his ilk with the potential to dominate any attack.
Ryder's snubbing looks like a move to protect captain Brendon McCullum's place in the middle order. Those in the know are suggesting McCullum is in the twilight of his test career, his body battered.
McCullum is only 32, so it is a surprise to read or hear this. But the great Martin Crowe, in a recent column, is among those to float the idea that McCullum could soon become a short-form specialist allowing Kane Williamson to take the test captaincy and Ryder to bat at number five.
Ryder should be back in, right now. The New Zealand selectors are reading both too much and not enough into the series win over the West Indies, who are not in the same league as the Indians.
The Windies were weak-spirited. And the New Zealand openers were unconvincing yet again, especially Peter Fulton who tied himself in knots that he had no hope of unravelling.
Ryder v Fulton for a test spot ... they are not even on the same planet.
And while this should not be an overriding selection factor, Ryder has the added bonus of an x-factor appeal that draws fans.
This is a massive moment for New Zealand cricket, on an encouraging roll, and even world cricket, about to be rolled by the aggressive Indian administration.
The time is right to put the foot on an accelerator named Ryder. He could even have been included in the game at Whangarei, where Fulton and Hamish Rutherford will get an advanced taste of the tourists' attack.
Ryder had to return, forcing McCullum - who had a reasonable but inconsistent time against the weak Windies - to resume his role as an opener. It may not be his ideal, but the captain's international record is not sufficiently good to afford him automatic protection from the new ball.
On Fulton's painful form against the Windies, McCullum is unlikely to do any worse at the top of the order. He has the potential to do a lot better with the bonus of a left-right combo being retained.
Nadal just a grunter
Rafael Nadal is certain to blow past Roger Federer as the greatest winner of grand slam titles. But Nadal will never be the greatest tennis player.
He's a glorified retriever, like Jimmy Connors on steroids. And just like Connors, he grunts. Federer was absolutely within his rights to complain about the Nadal noise factor in their lopsided Australian Open tennis clash.
Weak authorities have let tennis down by allowing the likes of Nadal and Maria Sharapova to wreck games with their vocal attacks. The grunt is not only outrageously annoying for one and all, but it is a tactical weapon.
Everyone knows that, but no one does anything about it. On pure tennis alone, Nadal is not in the same hall of fame as Federer, who has been an elegant craftsman.
Eight of Nadal's Grand Slam victories are in the French Open - his mastery of the boring clay court game has elevated him to a status that he doesn't deserve. In Nadal's case, using Grand Slam totals is a misuse of statistics. There have been amazing marathons between the top players of today but the art of delicate shot making has been largely lost.
Nadal and his heavy spin rule from the baseline. I depart most Nadal performances with a lot of admiration but not much joy. Federer at his best was the best.
Ko out of Tiger's league
On one hand, well done to Sky for scoring coverage of the LPGA, where Lydia Ko will take on the world's top women golfers. On the other hand, it doesn't mean we get to see a lot of Ko. By my count, the coverage involved only three Ko shots during yesterday's third round of the tournament in the Bahamas, even though she was not too far off the lead. That's the reality of life in the fast lane. Ko is big news and will only get bigger. But the cameras ain't going to follow her like Tiger Woods.
Morgan speaks his mind
Got to love Phoenix co-owner Gareth Morgan's shoot-from-the-lip approach. Morgan didn't bother with the PC farewell speeches for retiring New Zealand Football chairman Frank van Hattum.
Morgan described NZF as "dead from the neck up" and suggested van Hattum ruled a fiefdom.
He was bang on in praising the women's game and describing the men's as "absolutely abysmal", but some of his remedies need debating - his claim that the two bodies should be "joined at the hip" is not necessarily correct. There are arguments over how close NZF and the Phoenix should be.
But you've got to love Morgan's style, passion and determination to have some sort of vision. Soccer in this country is dull, mainly lives beneath the radar and needs a massive shake-up.