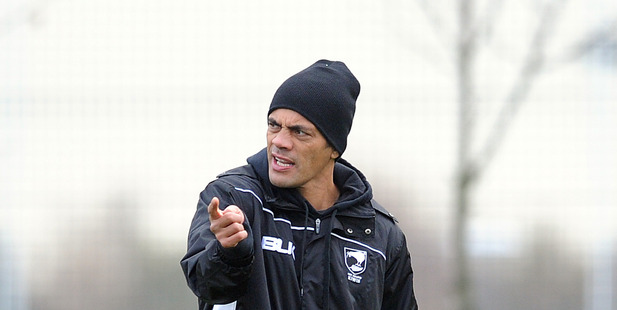 Stephen Kearney is the favorite to remain as Kiwis coach, despite the failure to win last year's World Cup final, but the New Zealand Rugby League wants to test the market to see if there is better option.
Kearney has had the job since 2008, when he took over from Gary Kemble, and oversaw the successful 2008 World Cup and 2010 Four Nations campaigns.
But he has come under scrutiny since the Kiwis were demolished by Australia in last year's World Cup final and his record against the Kangaroos (two wins in six years) is poor.
New Wests Tigers assistant David Kidwell is expected to apply. He has impressed many since joining the coaching ranks in 2010.
Former Auckland Vulcans and New Zealand Maori co-coach Richie Blackmore has indicated he will apply, but it's thought he needs more top-level coaching experience.
Penrith coach Ivan Cleary said after the World Cup, at which he worked with Kearney, he was interested in remaining involved with the Kiwis, but he is unlikely to have the time or inclination to seek the top job.
Applications close on January 31. A six-man selection panel will then conduct interviews and recommend a candidate to the NZRL board by mid-February, with a view to an appointment being announced at the end of the month.
The coach's first assignment will be the Anzac test against Australia.
Kearney is known to have considerable support within the NZRL. There is a feeling that because of his experience and rapport with the players, it would be a mistake to make a change for the sake of it, and parallels have been made with the Rugby Union decision to reappoint Graham Henry as All Blacks coach despite the failed 2007 World Cup campaign.
Kiwis selector Richie Barnett thinks Kearney should be reappointed.
"I think Steve is the right person for the job and it's echoed by the players," he said. "The current management setup is the perfect model.
"I don't think they should mix with things, irrespective of what happened in the World Cup final."
NZRL high performance manager Tony Iro, who acted as Kiwis manager during the World Cup, has effectively ruled himself out by being a member of the selection panel.
NZRL chief executive Phil Holden, who is also on the panel, said he welcomed Kearney's decision to reapply.
"He's a strong candidate and someone we will be seriously looking at because he's the incumbent. He's been to two World Cup finals and won one and lost one. I was delighted he said he was going to reapply."
- APNZ