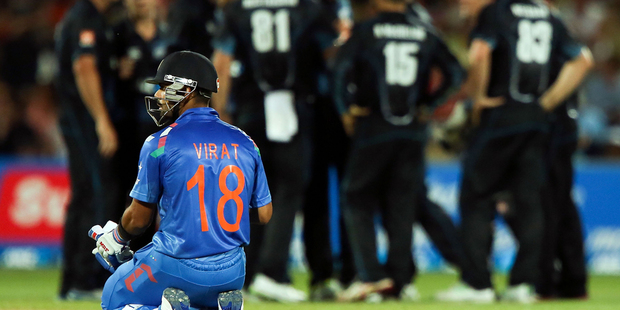 New Zealand 292-7
India 268
New Zealand win by 24 runs to lead five-match series 1-0.
The anticipation has been worth it. A tantalising series is in prospect after New Zealand steeled their nerves to triumph over India, the world's No.1 ranked side in their opening one-day international last night.
India closed on a ground record 293 for victory only to finish 24 runs short.
The match vibe, with a strong Indian expatriate community in attendance, was feverish.
New Zealand was full of heroes. Kane Williamson (71 from 88 balls) and Ross Taylor (55 runs from 82 balls) posted a 121-run partnership for the third wicket by cajoling the ball rather than indulging in willow warfare. That role was left to Corey Anderson (68 from 40) and Luke Ronchi (30 from 18) who added a 66-run stand in 37 balls. Anderson, in placing two balls on the roof, further enhanced his Indian Premier League skite reel.
Orange T-shirted patrons moshed to the front of stands in search of a $100,000 one-handed catch.
Williamson's technical precision was exemplary building a platform before his exit at 153 after 33 overs. He is perfecting the chip over the infield while other strokes wouldn't look out of place on a snooker table, such was their adhesion to the McLean Park baize.
Mitchell McClenaghan took the crucial wickets of Virat Kohli and Mahendra Singh Dhoni on his way to four for 68 as he maintained the aggression demanded by captain Brendon McCullum.
"There will be times he travels but we're happy as long as he attacks and tries to take wickets," McCullum said. "He bounced out four guys which is great, that's the plan we wanted."
Indian captain Dhoni said they didn't pull well: "We've got to master that with two bouncers allowed every over. You can't just pick and choose to leave them."
Chants of "Koh-li" and "Dho-ni" erupted as the pair bisected the field and dissected the attack in a fifth-wicket stand of 95. Kohli, with 123 off 110 balls, had his spell broken of India winning each of the 12 times he has scored an ODI century chasing. Dhoni's clean striking was reinforced with 40 off 46.
If New Zealand erred anywhere it was bowling; but charging in against players with ODI averages in excess of 50 is daunting. The hosts fielding wasn't at fault. Led by the McCullum brothers, they chased like the ball was a $100 note in a hurricane.
Adam Milne regularly clocked in excess of 150km/h before limping off after 7.3 overs with a side strain injury - he took one for 40 and faces a MRI scan tomorrow. Guile must be added to pace to shake India - Kohli drove Milne's fastest delivery (153.4km/h) straight for four.
"It's tough for Milny to get injured bowling at that pace, but his overs were still hostile which is exactly what we asked for," McCullum said. "He'll be assessed tomorrow but it doesn't look great."
SCOREBOARD