Top player Geraint Jones is relishing the role he's taken up in the developing cricketing country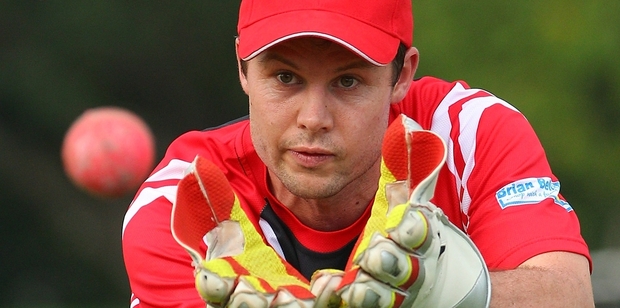 Papua New Guinea's flying start to the World Cup qualifying tournament has come as no surprise to their best-known player.
Having beaten Kenya and Uganda, PNG are turning themselves into solid contenders for the Super Six stage in the final chance to win a World Cup spot for next year. Get there and who knows?
Geraint Jones, former England wicketkeeper, scorer of a test century against New Zealand, catcher of one of the more celebrated catches in recent Ashes history, is an influential figure in the PNG side.
And if it sounds like an odd mix, consider Jones was born in Kundiawa 37 years ago. His parents were teachers and he was schooled in Queensland before making his cricket bones in England.
Now he's putting back into the land of his birth, and loving it.
"Once I was dropped by England [midway through the 2006-07 Ashes series], PNG's then CEO Bill Lane got in touch. Would I be interested in carrying on my career with them," Jones said.
He sat out his four-year qualification period, by which time "I was raring to go".
He made his debut in 2012 and is relishing his role in the developing cricketing country.
"To be honest I get just as much from these guys as I give them," Jones said.
"I say it's a bit of a refresher course for me. It's a very simple way of playing and I do get hugely energised by being around the group when I go back to county cricket. It is a real boost for me."
He believes the PNG players have benefited from a hefty load of cricket in the past year and a half, which included the initial qualifying tournament last year.
"They've had a busy workload but I'm seeing the fruit of it in the way we've played these first couple of games here.
"I like to try to offer stuff up to them, but not overload them with anything. I don't ram it down their throat and they're good learners."
Jones singled out as players of particular promise their two big-scoring batsmen at the tournament, Lega Siaka and Assad Vala, new ball bowler Raymond Haoda and legspinner Charles Amini, who took six for 19 in the second win, by nine wickets, over Uganda.
Vala and Amini scored rookie indigenous contracts with the Brisbane Heat and Sydney Sixers of the Big Bash League respectively.
"The big thing is we're confident in our bowling and fielding aspects. We know we can keep teams down, and our batting has clicked so far."
Jones, who returns to English county Kent for pre-season training in March, scored his only test century, 100, at Leeds against New Zealand in 2004 - "I peaked too early to be honest," he quipped.
He played through the celebrated Ashes series in England the following year, in which he famously caught tailender Mike Kasprowicz off fast bowler Steve Harmison to give England a nerve-shredding two-run win at Edgbaston.
"That series was phenomenal. I do say to people I'm remembered for one catch, but I'll take that catch. I'm happy with that."
He played the first three tests of the following Ashes, as Australia reasserted themselves en route to a crushing 5-0 victory, before being dropped.
Jones is happy with his lot and wants to keep doing his part for PNG "as long as the body allows, and the form. I don't think I should be guaranteed a place just because I've played [for England]."
A rapid 166-run stand between Irfan Ahmed and Jamie Atkinson carried Hong Kong to a fine nine-wicket win over Canada in the World Cup qualifying tournament game in Rangiora yesterday. Ahmed hit an unbeaten 100 off 85 balls, while Atkinson made 63 not out as Hong Kong reached 173 for one in 25.2 overs to eclipse Canada's 171 off 48 overs.
Namibia made it two wins from as many games, edging past Kenya by two wickets. Kenya made 186 for eight but Namibia passed that with seven balls to spare.