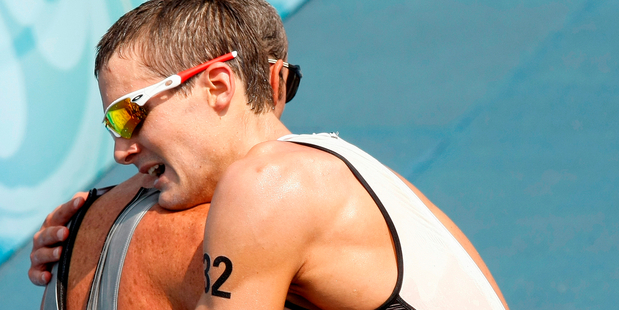 Jan Frodeno installed an irrigation system at his home in Noosa recently, which he rates as his biggest achievement as a gardener.
The German has very little experience as a propagator, and even less knowledge, but it didn't stop a gardening magazine from asking him for gardening tips in the wake of his Olympic triumph at the Beijing Olympics.
Frodeno was a surprise winner of the men's triathlon in 2008, beating Canada's Simon Whitfield and Bevan Docherty, and it's a result that changed his life.
He went on chat shows, featured on the covers of magazines, was invited to be one of 600 people from the community who vote for the German president and, naturally, was asked for his views on gardening.
"If you think of a movie, and my life was a normal movie, someone pushed the fast forward button and everything went much quicker," he said. "There was so much more going on, invitations here and there.
All of a sudden your opinion counts for so much more. People were asking me about things like gardening tips because obviously you're someone who knows how to do things.
"It was really interesting to see where people value what you do. For me, the greatest change was that all of a sudden you inspire people. That performance inspires people and they remember where they were on that day.
"That was just amazing and shows what sport can do. It changes and connects people. It's been wonderful. And a lot busier."
Frodeno tried to win back-to-back gold in London but his campaign was hampered by injury and he finished sixth. Since then, he's embarked on a career change and tomorrow will line up for the third 70.3 ironman race of his career. Where once the Olympics was the most important thing, it's now all about winning the Ironman World Championships in Kona.
At 32, he's made the transition at a relatively young age for someone who competed on the ITU world circuit.
Bevan Docherty admitted last year he wished he had made the change sooner, perhaps committing to one Olympic cycle too many in the hope of winning an elusive gold in London and completing his set of Olympic medals - he finished 12th.
Docherty is 36 and has set his sights on winning in Kona, too, and he and Frodeno should be buoyed by the fact Craig Alexander won there in 2011 in record time at the age of 38.
All three are racing in Auckland tomorrow, along with 10-time Ironman New Zealand winner and 41-year-old Cameron Brown.
"It's an advantage and disadvantage being older," said Alexander, who won two world titles at the shorter 70.3 distance and three world ironman titles.
"I'm not the same athlete I was five years ago. The engine gets better and I can do things in training I could never do but the body starts to break down and needs a lot more TLC.
"It takes a lot longer to get over things and I need a lot more recovery days.
"Niggles turn into injuries a lot easier and scratchy throats turn into sore throats a lot quicker," he said.
Five to watch in each category
Men
Terenzo Bozzone (NZL)
The 28-year-old finished on the podium nine times from 10 starts last year, including victories in Mont-Tremblant, Florida, Mandurah and Shepparton and second at the 70.3 world championships in Las Vegas, but missed last year's Auckland race after being knocked off his bike on the eve of the event.
Craig Alexander (AUS)
The 40-year-old is one of the best triathletes of all time, being a five-time world champion - twice at the 70.3 distance and three times over the full distance at Kona. In 2011, he became the oldest winner at Kona (38), in race-record time.
Bevan Docherty (NZL)
Two-time Olympic medallist who has already made a successful switch to ironman. Won Ironman New Zealand in record time on debut and also won 70.3 races in Panama, Boise and Vineman last year and a second in Auckland.
Jan Frodeno (GER)
Frodeno won Olympic gold in Beijing in 2008 and, like Bevan Docherty, is attempting to replicate that success at ironman level. The Australian-based German was second in last year's European championships.
Chris Kemp (AUS)
Kemp surprised many when he won the first Auckland 70.3 race last year but backed that up with victory over the longer ironman distance in Geelong.
Women
Annabel Luxford (AUS)
Two time Olympian, won the inaugural event in Auckland. Had an impressive 2013, with two wins and five podiums, including a third in the 70.3 World Champs and second in Ironman European Champs.
Catriona Morrison (GBR)
It was a 50th birthday party that brought Scotland's Morrison to New Zealand but while she is here the world two-time duathlon champion decided to squeeze in a couple of events. Completed four podium finishes in 2013 and was fourth at the Ironman 70.3 World Championships.
Jo Lawn (NZL)
Seven-time Ironman New Zealand champion Jo Lawn has moved to the shorter distance in recent seasons and enjoyed some strong results, including two top-five finishes at the Ironman 70.3 world championships.
Sam Warriner (NZL)
Former world number 1 over the Olympic distance, Warriner took time away from the sport in 2013 to have a baby before marking her competitive return with a win in the Ironman 70.3 in Cairns.
Rebecca Hoschke (AUS)
The 2013 Australian champion over the ironman distance, Hoschke is also a strong competitor in the 70.3 events.
- APNZ