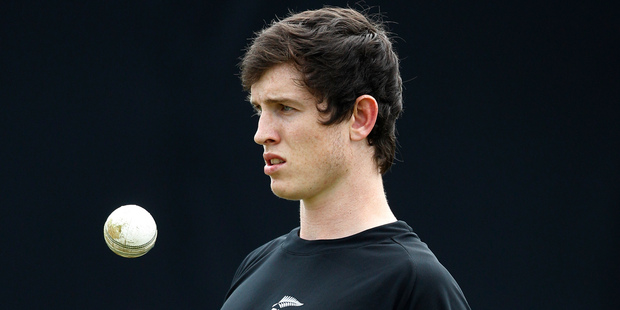 Catch Adam Milne while you can - history says he won't be around for very long.
Producing really quick bowlers has never been easy in New Zealand cricket, but it's a doddle compared with the success rate of keeping them in fine form and fettle. Milne is quick all right, and his career is unlikely to hang around either.
The few express merchants who have come along either crashed to injury or weren't good enough. At the head of this list is Milne's national mentor, Shane Bond, whose superb but abbreviated career because of injury is one of the biggest disappointments ever in New Zealand sport. Simply bowling fast isn't good enough. You've got to know how to use and sustain it.
Shoaib Akhtar, Dennis Lillee, Jeff Thomson, Fred Trueman, Harold Larwood, Waqar Younis, Malcolm Marshall, Allan Donald ... to look at the tip of a very hot iceberg. Fabulous fast bowlers make fabulous cricket. Throw in reverse swing, Younis-style, and the bouncers and there is the potential for fascinating mayhem.
But New Zealand's contribution to this has been in permanent reverse, apart from when Sir Richard Hadlee let a few rip and Bondy's body was holding up. And for all of the greats around the world, there are many heralded hurlers who fell short of predictions - launching rockets doesn't automatically launch a significant career.
This category includes an English county bowler named Duncan Spencer, about the only quick to give the scary West Indian batsman Viv Richards a hurry-up. Spencer's first-class games could be counted on the fingers of four hands and he ended up banned for using a drug to deal with crippling back pain.
More prominently and relevantly, West Indian Ian Bishop - a commentator on the current tour - was a victim of the fast bowler's injury curse.
Aussie Shaun "Wild Thing" Tait is a classic modern-day tale of a super-quick bowler going into a super-quick tailspin.
If Milne wants a long and prosperous career, he might need to think in a radical way. Maybe he could skip town for a while and try to get a professional gig in Australia or South Africa, where conditions and traditions give him a better chance to establish his career.
The New Zealand selectors might consider only considering Milne when things are absolutely in his favour - it is a legitimate concept in test and limited-over cricket to prevent his mind and body getting flogged.
It would be fantastic to see him succeed, especially in the test arena. With Ish Sodhi forging a career at the same time, New Zealand has a ticket for the winning quinella - a speedster and a leggie. The odds are heavily stacked against both, sadly.
Why don't quick bowlers emerge and succeed in New Zealand? Tradition is one reason - kids lack an out-and-out paceman to emulate. This is a reason put forward to explain why Pakistan produces outstanding pace bowlers and India doesn't.
Added to that, wickets in New Zealand are not so responsive to fast bowling - ground and atmosphere favour movement instead.
Our national characteristic is another. Brutal attitudes are a hallmark of South African and Australian cricket, and the finest fast bowlers don't tend to be shrinking violets. The impressive line of Pakistani pacesetters have a certain swagger to them.
Still, how wonderful to hear the 21-year-old Milne has no intention of dialling his speed back, that a reason for getting up in the morning is to bowl as quick as he can. Not so great to note that he's already had injury problems, although his back has escaped the curse so far.
The good news is we can live in hope. The bad news is that Milne will probably end up being talked about in the same breath as "Broken" Brendon Bracewell and Co in 20 years' time, when another young wild thing has temporarily got the adrenaline rushing.