Ronchi rises to occasion as skipper has eyes on stylish series win in Wellington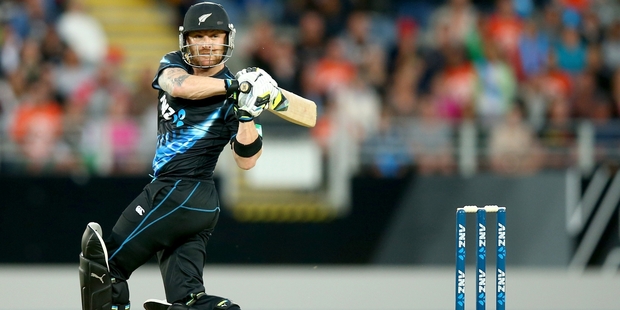 Just how cross captain Brendon McCullum was at New Zealand's wretched ODI performance in Hamilton last week was rammed home after their thumping T20 win over the West Indies at Eden Park.
The win gives New Zealand a chance to win their second series out of three in the tour finale in Wellington on Wednesday. New Zealand won the test rubber 2-0, but squared the ODIs, after the Hamilton blowup.
There may be a temptation for New Zealand to begin looking towards the higher-profile Indian tour, which starts in Napier on Sunday. But McCullum won't be swayed from a resolve to send the West Indies packing with another series defeat.
"We've got another opportunity to close out a series. We missed one the other day," he said, referring to the 203-run belting in Hamilton. "If we're serious about trying to win big tournaments we've got to be closing out those sort of games, so Wellington presents a good challenge for us."
McCullum was much happier on Saturday night after New Zealand's 81-run win.
"We knew this game was very important for us to try and wrest back some momentum in the series. The way we played was pretty close to how we want to play as a short version team," he said.
Wellington is New Zealand's last T20 before hitting the world T20 tournament in mid-March. India, who arrive in Auckland today, are playing only ODIs and tests and McCullum admitted it's difficult trying to get real T20 value out of 50-over contests. Still, he reckoned the Eden Park performance was a pretty good blueprint of how to play the game.
There was strong batting from him with an unbeaten 60 in 45 balls, and wicketkeeper Luke Ronchi, who hit 48 not out off only 25 balls, in reaching 189 for five - New Zealand's second highest total against the West Indies.
The bowling was impressive. Adam Milne's pace added a fresh ingredient, while Jimmy Neesham, Corey Anderson and four-wicket offspinner Nathan McCullum all produced strong hands. The fielding was outstanding and the West Indies batting desperately limp.
Fast bowler Tino Best pointed to the absence of their "six-hitters", such as Chris Gayle, Kieron Pollard and Darren Sammy, through injury. Had they been there, on the small outfield, "it would have been a whole different ball game".
Maybe, but the unbroken sixth-wicket stand of 85 between McCullum and Ronchi was a rousing performance by any standards. McCullum is an old hand. But for Ronchi it was an important innings, his best beside a 26-ball 39 in Sri Lanka to secure a thrilling ODI win in November. "It's nice to contribute and repay the faith they've shown in me."