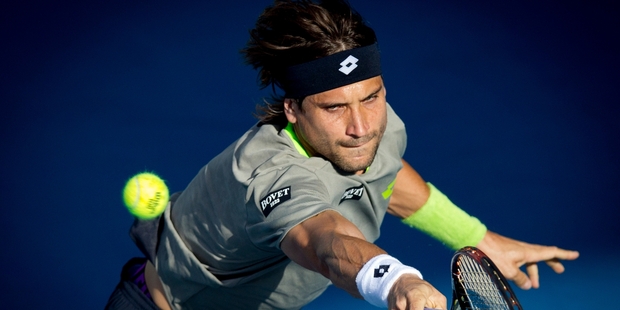 David Ferrer and the Heineken Open have gone together like tapas and vino tinto.
Ferrer was the surprise absentee from yesterday's final but the Spaniard's incredible record at the tournament is something that may never be surpassed in modern tennis.
Putting aside Roy Emerson's four Auckland titles in the 1960s, nobody else aside from Dominik Hrbaty (2001, 2004) and Onny Parun (1975, 1976) has won more than a single title in Auckland.
Ferrer's consistency has also been remarkable - reaching the quarter-finals or better on all but one occasion across 10 appearances - and he has a 26-6 win-loss record at the tournament.
Ferrer first came to Auckland as a 20-year-old in 2003. He was ranked No58 in the world, having risen from the 200s 12 months earlier. In his debut appearance he was an instant success, beating compatriot Alberto Martin in his first match (6-3 6-2) and then dispatching Fernando Gonzalez (world No17) in the second round, before losing to Hrbaty in the last eight.
He returned to New Zealand in 2006 and since then has had nine successive appearances at the tournament. The 31-year-old has brought a new level of quality to Stanley Street and his impact probably won't be appreciated until he is stops returning.
On four occasions, he has come to Auckland as a top five player (and one other as No7). This year, he arrived as No3. Every one of his matches last week was sold out and, despite his limited English, he charms the crowds.
"I am proud ... I won a lot of matches here in Auckland but this is tennis - never is forever," reflected Ferrer on his Auckland achievements. "Maybe 2007 against Tommy Robredo was my favourite [title]. I was a young player and after that, I made the final of the Masters Cup and finished in the top 10 for the first time."
Before Friday's loss, he was last beaten in Auckland in 2010, when he lost to eventual finalist Arnaud Clement.
Since then, he had won 14 consecutive matches, including wins over David Nalbandian, Philipp Kohlscreiber (twice), Gael Monfils and Fernando Verdasco.