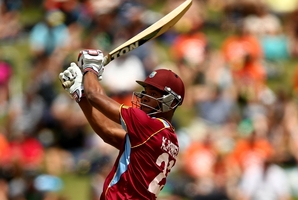 Kieran Powell is preparing for "the most difficult week in my life".
The young West Indies opener, who lit up the final ODI in Hamilton this week with a scintillating 73 off 44 balls, has been away from home longer than any of his teammates.
He last saw his house in Nevis, part of the Leewards Islands, at the start of September. Since then, the promising lefthander has been to India with the West Indies A team, had a week's camp in Miami, went back to India with the senior team, then came to New Zealand.
Old sweats who recall the years of three-month tours would sympathise and the 23-year-old can't wait to get home.
"The call of home is obviously a daunting prospect," he said yesterday. "In a sense it's not as difficult for me as some of the guys who are married or have kids. But it takes its toll on you."
Powell yearns to get home, find out how much his father has been driving his car, help his niece with her homework and chill out at the beach - "just get away from cricket".
But there's a final bit of business first and as world T20 champions the West Indies will fancy their chances at Eden Park tonight in the first of two T20s to end the tour.
As Powell surveyed the pitching wedge short straight boundaries yesterday, it wasn't hard to see his mind ticking over at the possibilities.
"The last time we were here Darren Sammy made them look rather inviting," he said with a laugh, recalling Sammy's blistering late hitting surge to carry the West Indies to a two-wicket win.
It's Powell's first T20 and he hopes it helps his aspirations of being in the world T20 squad to defend the title in Bangladesh in March/April. Several likely picks are recovering from injuries, including Chris Gayle, Kieron Pollard and Sammy so ...
"There's an opportunity for lots of guys to push their claims, so it's important we take these games very seriously".
New Zealand will be taking them very seriously too.
These are their last two chances to fine-tune for the world tournament.
Putting the Hamilton beating behind them at the first opportunity will be another incentive.
"The West Indies came out pretty strong," all-rounder Jimmy Neesham said yesterday. "The main thing we've been focusing on is adaptability and being able to change plans when someone comes out with something different.
"They probably came out batting like it was a T20. There are shorter boundaries here so we've got plans we're looking to put in place."
Neesham admitted he has seen Eden Park from both perspectives: "Going out to bat you're expected to clear the rope a lot, and it can be a bit daunting at times. As bowlers all you know is you've got to keep it in the park."
He suggested New Zealand may have thought "we had the wood on the West Indies" going into the Hamilton ODI series decider.
"Possibly we were a little unprepared for what they were going to bring to us."
There's no chance of that tonight, or there shouldn't be. This is the West Indies' territory, the game they seem best equipped for at present. And as they showed on Wednesday - with Powell in the vanguard - when they're on song they are an awkward proposition for any team.
If the West Indies win both games they will jump three places to be ranked No2 in T20 cricket, behind only Sri Lanka.
New Zealand will go up one spot to seventh if they win one or both games.