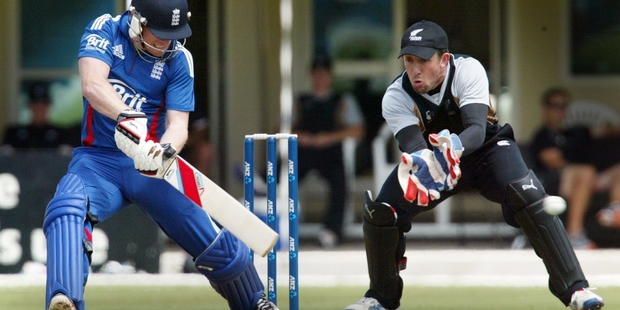 It is still over a year away, but the World Cup clock is beginning to tick loudly for those eyeing selection in the New Zealand squad.
Yesterday's opening ODI against the West Indies at Eden Park started a 10-game home programme over the rest of the summer, involving the Windies and world No 1 India.
Once that is finished, New Zealand are due to play just 13 more ODIs before they open the World Cup against Sri Lanka in Christchurch on February 14, 2015, excluding still-to-be-finalised warmup fixtures just before the start.
There are five in the Caribbean in May-June, three against Pakistan in their home away from home, the United Arab Emirates, later in the year and five against Sri Lanka, who are the sole incoming full tour in the first half of the 2014-2015 season, for tests and one-dayers.
Players on the fringe of selection will be aware of opportunities remaining and, by extension, opportunities slipping by.
So how many New Zealand players would be considered, 14 months out from the start, absolute locks to be in the squad? Fewer than you might think.
And remember selectors - and Mike Hesson and Bruce Edgar would be no different in this - are want to insist no one should be a certainty.
For one thing it breeds cosiness and a take-it-for-granted mentality. Another point is all of them, whatever the sport, like to keep players on their toes. But four players, assuming they are fit, maintain form and don't fall under a bus, will be there - Brendon McCullum, Ross Taylor, Kane Williamson and Tim Southee.
There are others who look solid bets to be in the squad. Nathan McCullum, Kyle Mills and Martin Guptill would be among them.
Then there are the young crop who are making good progress in the early stages of their limited-overs careers. Put Corey Anderson, Colin Munro, Jimmy Neesham and Mitch McClenaghan in that group.
Jesse Ryder is in a category of his own. Forget his early departure yesterday on his return after two years' absence; if he stays on track, in all senses, the first group of four becomes five.
With Brendon McCullum out of the wicketkeeping equation, Luke Ronchi has first dibs.
He's got class about his game, but the test gloveman, BJ Watling, is not without his supporters.
Watling's keeping is improving and he's capable of brisk runs in the closing overs, if maybe not necessarily of the clear-the-fence variety.
Think back to the tours of Bangladesh and Sri Lanka.
Six players were there, and are not in the squad to play the West Indies - batsmen Anton Devcich, Rob Nicol, Grant Elliott, Hamish Rutherford and Tom Latham, and allrounder Andrew Ellis. Now add in these names: Dan Vettori, Trent Boult, James Franklin and Doug Bracewell.
Vettori is essentially having a trial of his body in the Big Bash League for the Brisbane Heat, the only organisation to whom he is presently contracted.
He is due to talk with Hesson and Edgar when he returns from Australia, possibly with an eye on a comeback against India.
Hesson understandably didn't want to get into speculation over what form of cricket that might be but he acknowledged how important the former skipper and world No 1-ranked allrounder would be/what he would bring to the table.
Franklin's time is probably gone, but the selectors should still be keeping an eye on the allrounder who hits one of the longer balls in the domestic game.
Bracewell surely can't be completely out of the picture at 23. However he's got eight expensive wickets in seven ODIs, was last sighted in an ODI at Southampton against England in June. His forte, when on song, has been the test game, rather than shorter forms. Which leaves Boult.
The left arm test swing whiz isn't in the ODI squad, Hesson talking of more work needing to be done in white ball cricket. His eight ODIs have produced six wickets at 47 apiece. His last outing was 10 months ago against England in Napier.
"He needs a bit of confidence playing some domestic cricket and looking to push his case with the white ball," Hesson said.
"The white ball doesn't swing anywhere near as long as the red ball so there's different challenges. But he's a fine bowler and I'm sure he'll keep asking us questions."
The selectors will want to be careful not to risk messing about with his test bowling methods and lengths. Even so, you'd think by the time the World Cup arrives, providing his test form remains impressive, they would have to think hard about finding a place for him. As for those who were in Bangladesh and Sri Lanka, the door isn't closed. Some may not make it back, others certainly will. A challenging year lies ahead.