In seven league finals between New Zealand and Australia, the Kiwis have managed a respectable record of three victories. Chris Rattue looks at the matches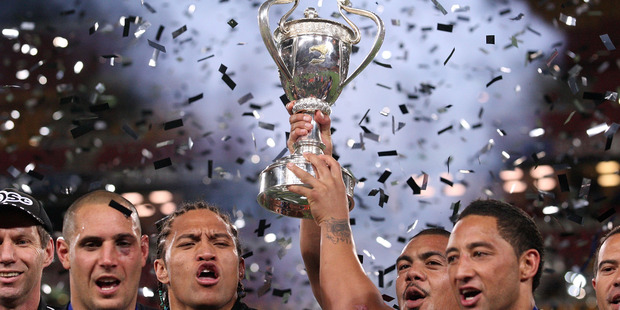 World Cup
1988: Australia 25 New Zealand 12
Eden Park, Auckland. Coaches: Don Furner (A), Tank Gordon (NZ). Crowd: 47,363. Referee: Graham Ainui (Papua New Guinea).
Full of skirmishes, including between the NZRL and players after a critical post-match report. The Kiwis ranged from veteran superstars such as Mark Graham and Kurt Sorensen to local club men. This was the ninth World Cup and only the first final for the Kiwis, but there was a dangerous confidence around their chances. This was shattered by Wally Lewis, Allan Langer and co. The shambolic Kiwis lost their cool. At 25-0 down they even kicked a penalty goal, then another one. Aussie great Mick Cronin dryly wondered if there was enough time for 11 more. Lewis broke an arm tackling Tony Iro but played until halftime. He claimed the Aussies planned to act "civil" against the expected Kiwis assault. The game ended with Lewis lighting a cigarette on the sideline. Those were the days.
Strange but true: There were a whopping 28 penalties, and somehow the Kiwis won the count.
2000: Australia 40 New Zealand 12
Old Trafford, Manchester. Coaches: Chris Anderson (A), Frank Endacott (NZ). Crowd: 44,329. Referee: Stuart Cummings (England).
A poor tournament crowd-wise, and featuring lopsided results. A New Zealand Maori team made its only World Cup appearance, with Morocco. Yes, Morocco. The final was much better than the scoreline suggested. The Aussies, who struggled in the semifinal against Wales, had a fast start. At 60 minutes, the Aussies led by just 18-12 but Brad Fittler, Andrew Johns, Gorden Tallis and co stormed home. Current Kiwi coach Steve Kearney was among the best Kiwis and made an amazing try save on Wendell Sailor.
Strange but true: Three of the starting wings later played test rugby. Mat Rogers and Sailor made their debuts for the Wallabies in the same game, and Lesley Vainikolo played for England. Kiwi centre Tonie Carroll was able to flip sides back then and became a Kangaroo.
2008: New Zealand 34 Australia 20
Suncorp Stadium, Brisbane. Coaches: Steve Kearney (NZ), Ricky Stuart (A).
Crowd: 50,599. Referee: Ashley Klein (England).
History was made, helped by Aussie great Billy Slater's famous brain fade. The fullback stupidly flirted with the sideline then flung a bizarre pass infield to Benji Marshall who scored giving the Kiwis a 22-16 lead. The Kiwis also won a marginal penalty try call from English video ref Steve Ganson against wing Joel Monaghan, who obstructed Lance Hohaia behind the tryline. An amazing Jeremy Smith ankle tap on Johnathan Thurston helped prevent a fightback. Coach Stuart went berserk after the game, confronting the match officials and claiming an administrative conspiracy ... his last act as Kangaroos' coach.
Strange but true: Losing captain Darren Lockyer was man of the match despite botching a try. Kiwi captain Nathan Cayless thanked the "English supporters for staying". Kiwis' assistant coach, Aussie Wayne Bennett, drew more praise than Kiwi Kearney.
Tri Nations
1999: Australia 22 New Zealand 20
Mt Smart Stadium, Auckland. Coaches: Chris Anderson (A), Frank Endacott (NZ). Crowd: 21,204. Referee: Robin Smith (England).
The Kiwis, who beat Australia in the opener, fell short in a gripping finish. Brett Kimmorley's break set up Wendell Sailor's late try. Kiwi forward Logan Swann was centimetres short from scoring the winner.
Strange but true: The final was switched from Brisbane to Auckland after Britain struggled to beat the Burleigh Bears in a warm-up game and only 12,000 people turned up at Suncorp Stadium to watch the Brits crash to Australia.
2005: New Zealand 24 Australia 0
Elland Rd, Leeds. Coaches: Brian McClennan (NZ), Wayne Bennett (A). Crowd: 26,514. Referee: Steve Ganson (England).
A history-changer that ended a 27-year march by Australia through international tournaments. It was the first time in more than 50 years the Kiwis beat Australia twice in a season. Halfback Stacey Jones, coming out of retirement, made an amazing journey to play. He zipped home from Britain for the birth of his third child, texting from Los Angeles to find out if the Kiwis were in the final. He returned a day before the final, played a huge part, then admitted he was "buggered". Ruben Wiki, playing his 50th test, was a key figure. The Kiwis, heavy underdogs after a patchy tournament, blitzed the Aussies from the start. Australia continue to dominate but New Zealand won the games that mattered most in 2008 and 2010.
Strange but true: The taciturn Bennett took a sneaky exit at Brisbane Airport to avoid the media. He quit as Aussie coach, leading to his pivotal role with the Kiwis in 2008.
2006: Australia 16 New Zealand 12
Sydney Football Stadium. Coaches: Ricky Stuart (A), Brian McClennan (NZ). Crowd: 27,325. Referee: Ashley Klein (England).
A superb Johnathan Thurston break finished by a stumbling Darren Lockyer settled the result into golden point extra time, bringing a disappointing end to the careers of Kiwi greats Ruben Wiki and Stacey Jones.
Strange but true: The tournament is best remembered for Grannygate, when the Kiwis initially used ineligible Aussie Nathan Fien by pretending his Kiwi great-grandmother was his grandmother.
Four Nations
2010: New Zealand 16 Australia 12
Suncorp Stadium, Brisbane. Coaches: Steve Kearney (NZ), Tim Sheens (A). Crowd: 36,299. Referee: Tony Archer (Australia).
Grannygate villain Fien - a genuine Kiwi player by now through residency - scored the winning try on fulltime after a long-range move initiated by Benji Marshall. Jason Nightingale hurled the vital pass 8m forward but Australia were gracious, refusing to blamethe officials and congratulating the Kiwis.
Strange but true: Tim Sheens is still the Australian coach.