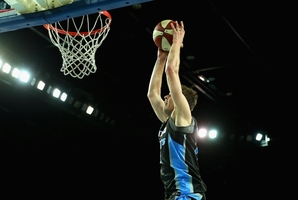 Breakers' swingman Tom Abercrombie will be the player to watch as they go head-to-head with the Melbourne Tigers tonight.
Scoring 20-plus points in his last two games, Abercrombie has begun to cement himself as the Breakers' much needed go-to guy.
If he can reinstate this claim against the Tigers this week, he may be able to help this Breakers side achieve their first back-to-back win of the season.
"I'm feeling good, I'm feeling confident so for me it's about just trying to stay consistent," said an elated Abercrombie.
"I've had a couple of good weeks but I want to make sure I keep up that same mindset no matter what's happening."
Both teams played the Townsville Crocs in their round seven match-ups but only the Breakers managed to pull through victorious. They will look to draw upon this win and their home advantage as they head to North Shore Events Centre tonight.
"It was a tough start to the season, we were on the road quite a bit so to be home for the last couple of weeks has been good for the bodies.
"For us it will be about getting a little bit of momentum, especially going on a tough road trip next week."
However the Tigers do have a secret weapon in the form of shooting guard Chris Goulding.
"[He's] the leading scorer in the league at the moment and he's playing really well," Abercrombie said.
"He really leads their team, scores the ball in a variety of ways and makes a lot of tough shots as well."
Furthermore, Melbourne's loss last week will make them that extra bit hungrier for a victory come full-time tonight.
Coach Dean Vickerman said Breakers' point guard Kerron Johnson, who picked up a bump during last week's win over Townsville, is in doubt for tonight's clash.
"We've still got to seek some more medical advice to see if he's ready for the game, but we expect him to play."