Former coach Sir Graham Henry credits mental skills guru for helping forge team which never quits.
World Cup-winning rugby coach Sir Graham Henry has paid tribute to the All Blacks' mental toughness after they pulled off a remarkable comeback to defeat Ireland and post a blemish-free 14-0 win-loss record in 2013.
Sir Graham, the man who engineered the all-conquering All Blacks' 2011 Rugby World Cup triumph, praised the work of mental skills coach Gilbert Enoka in helping forge a team that knows it is never beaten.
"This All Blacks team has got that ability [to come back]," Sir Graham said. "They've got the mental skills. What Gilbert Enoka has done with that team in the mental skills area is phenomenal. It's a real pat on every-body's back, [captain] Richie McCaw and the boys who played, but Gilbert's in charge of that mental skills area and obviously they are getting stronger and stronger.
"This team has shown on a number of occasions they never lose their composure. They just keep on doing the right thing."
The comeback from 0-19 was one of the biggest in All Black history and Sir Graham rated it up there with the best.
"It has to be one of the great comebacks, I'd imagine."
The bulk of the winning All Blacks squad will stay overseas for family holidays, commercial work or to play in the Barbarians match against Fiji in London next weekend. A small party of All Blacks return to New Zealand tomorrow.
The group will arrive on NZ1 from Los Angeles at Auckland International Airport at 7.15am.
Another All Black great, Sir Brian Lochore, said the All Blacks didn't appear ready for the early Irish onslaught yesterday but had shown incredible belief to mount one of the greatest comebacks he could recall.
"It was a fantastic comeback," Sir Brian said. "I can't think off-hand of a side that has been that far behind and, really, with less than a minute to go we were still in a great deal of trouble. But they believed in themselves and they did come back. It was a massive effort.
"It was clear that the Irish were up for it when you listened to the anthem. It was clear on their faces they were going to come out and have a fair crack, which they did."
Sir Brian also paid tribute to the All Blacks' 14-0 record this season.
"They are playing really well. They have played some wonderful games. They obviously enjoy each other's company. They play for each other and they play for their coaches and that is really what it is all about."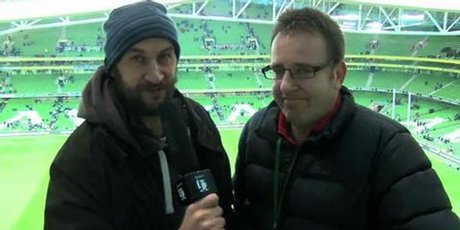 Sir Graham said he couldn't recall any matches from his eight-year reign as coach when the All Blacks had made similar comebacks.
A missed penalty kick by Irish playmaker Johnny Sexton with seven minutes remaining was "the winning and losing of the game", he said.
Another former All Black coach, John Hart, didn't see the match as he had been tramping the Milford Track in the South Island. He nominated a Bledisloe Cup victory in Brisbane in 1996 and a 26-all draw against England in 2007, when the ABs came back from 3-20 down, as two of the better comebacks under his watch.
Great comebacks and great escapes
The luckless Irish
1978
The All Blacks' hopes of a first Grand Slam are clinging by a thread in a first-up match against Ireland. It's 6-6 with time up on the clock when hooker Andy Dalton scores from a lineout. Similar escapes against Wales and Scotland follow, with the 1978 team earning the nickname the Houdini All Blacks.
1992
Ireland make a fast start and lead 12-0 in Dunedin. The All Blacks claw their way back into the match to draw level at 18-18 at halftime, and go on to eke out a 24-21 win
1997
John Hart's All Blacks are in trouble early, trailing Ireland 15-3. But the Irish quickly fade and are belted 63-15.
2001
Another storming start sees Ireland post a 21-7 lead, which they hold until shortly into the second half. On debut, young flanker Richie McCaw inspires the comeback as the All Blacks win 40-29. McCaw is named man of the match.
2012
The Irish were supposed to be easy meat for the all-conquering All Blacks. But the game is in the balance right up until the death when Dan Carter stabs home a rare dropped goal to steal a 22-19 win.
The lucky All Blacks

1996
The All Blacks trail Australia 9-22 mid-way through second half of a Bledisloe Cup match in Brisbane. It's a dire situation but the All Blacks steadily chip away at the lead until Frank Bunce seals the comeback 32-25 win with a try on the final whistle.
1997
Having belted England at Old Trafford in the first test, the All Blacks were expected to do the same at Twickenham a week later. However, England make an inspired start and race to a 20-3 lead. The All Blacks hit back to take a 26-23 lead late in the match but a late Paul Grayson penalty earns England a 26-26 draw.