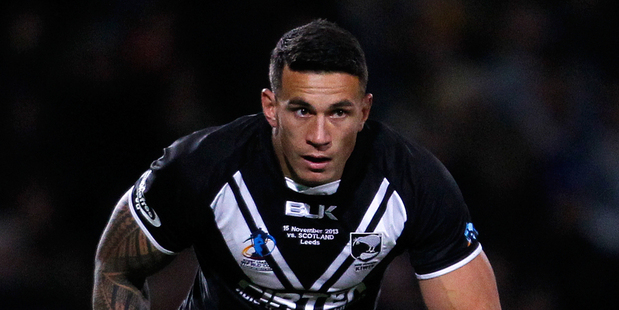 The sight of Sonny Bill Williams lying prone on the ground early in the match against Scotland was frightening for Kiwis fans but not as scary as for the player who heard a crack in his neck.
Williams had his neck caught in an awkward position in the second minute of the 40-4 defeat of the Bravehearts in Leeds on Saturday morning and was in pain after finally emerging. He was quickly asked by New Zealand doctor Simon Mayhew if he had feeling in his limbs, which did little to allay Williams' concerns.
''I laid there and I was just in pain,'' Williams told Fairfax Media. ''It was just scary and it was hurting. They told me just to stay there and they asked if I had pins and needles. I was thinking, 'please no, I don't want pins and needles,' but I didn't have any so I got up.
''I just heard a crack so that was pretty scary but they just said that is normal. It just got caught in what was a classic crusher tackle.
''It was a risk to carry on so they pulled me off before halftime and hopefully I will be back to 100 per cent by this weekend.''
Williams sat out the entire second half against Scotland as a precaution because coach Stephen Kearney knows full well how important his influential second-rower could be as the tournament heads into the semifinals next weekend.
Medical staff were said to be pleasantly surprised by how well the 28-year-old was moving at the team's recovery session overnight. There is more concern about the groin injury to winger Manu Vatuvei but they won't know how bad it is until he attempts to run on it in a couple of days' time.
The Kiwis relocate to London tonight (NZT) before taking on either England or France at Wembley on Sunday morning (NZT).
Australia breezed through their quarter-final this morning, beating the US 62-0 but they will be concerned about the fitness of fullback Billy Slater who came off with what looked like a serious knee injury.
- APNZ