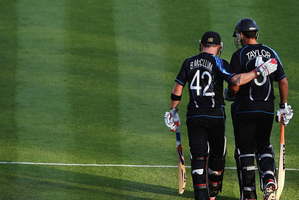 It's nearly 12 months to the day (November 13) that Black Caps coach Mike Hesson and others entered a hotel room in Sri Lanka to begin the debilitating, mishandled controversy surrounding Ross Taylor's demotion from captain.
If that isn't a bleak enough anniversary, the Black Caps tonight begin yet another series against Sri Lanka. Assessing the 12 months since 'Taylorgate' isn't easy but, if that debacle was inspired by the need to raise performance (said to be the motivation), it can probably be labelled a failure so far.
Things are little better, if at all. True, New Zealand Cricket is not having to deal with such bitter controversy. But, after their 3-0 ODI series loss to Bangladesh, the Black Caps appear to be cruising slowly down the river of indifference, on a boat constructed from planks of apathy, paddled with the lightly-dipped oars of lethargy. A late and meaningless T20 victory against Bangladesh wasn't enough to curb that perception.
The Sri Lankan effort is being conducted without Taylor, captain Brendon McCullum and the injured Kane Williamson; as a marketing campaign, it's a disaster. Taylor and McCullum (before he was injured) were sent home to prepare for the West Indies tour (three tests, five ODIs, three T20s), beginning at the end of this month.
After one of the lost Bangladesh ODIs, I tweeted that the Black Caps were surely our most overblown national sports team.
I was surprised by the tweets that came back, saying that such losses would be frustrating if they were not totally expected. That is a dangerous position for any national sport to find itself in. Fans apathetic and/or cynical do not a healthy sport make.
The Windies tour will have the advantage of being a home series played in our time instead of the middle of the night - but it is easy to wonder how much a fan base, confused by all the changing faces in the team and the lacklustre nature of the results, has moved on already. A team which promises much and delivers little is corrosive, especially when such an effect is applied as strongly as it has been over the past two years.
Performance-wise, there has been little improvement. NZC CEO David White characterised the Bangladesh ODI result as "two steps forward, one back" - referring to the undeniable fact that the Black Caps won ODI series in England and South Africa in that 12 months.
However, viewed over that entire period, it can be seen that White is cherry-picking. The Black Caps' record over that 12-month period in all forms of the game is: Tests - Played 11, won 1, drew 5, lost 5. ODIs - Played 16, won 6, lost 10. T20s - Played 7, won 3, lost 4.
Yes, they won an ODI series in England but, if you take all one-day matches against England (including the Champions Trophy) into account, they won 3, lost 4.
Their ODI series win in South Africa had something of the courageous about it - it came not long after Taylor's demotion and break from the national team and after an embarrassing test series lost which included that woebegone innings of 45.
However, the cynics could point out that this came after the test and T20 series, both clearly won by the Proteas.
By any measure, McCullum's batting performance has worsened post-captaincy. He has scored precisely zero centuries though he did manage 10 half-centuries in all forms in that period. His test average was under 30, about 32 in both limited-overs forms - barely acceptable for one of such talent.
Williamson (with a test and ODI average just under 40), BJ Watling (test average just under 40, ODI average almost exactly the same as McCullum's) can be exempted from criticism, as can Taylor - absent after his demotion but who scored more ODI runs than anyone else and the most test runs apart from Williamson.
Peter Fulton had a test average of 44.1 in the period in question, buoyed by his two centuries at home against England and two good knocks in Bangladesh. The injured Martin Guptill had a horror time in tests but, after some early failures, produced an ODI average of 57.7 and a T20 average of 68.75.
New Zealand Cricket is also trying to build separate combinations in the three forms of the game, partly to avoid player burn-out and partly to build depth and "horses for courses". It's an admirable objective - but it is proving costly in perception terms.
Fans are confused by the changing faces in the team; just as they do in rugby, many turn off when the big names are not about. It reeks of a small country trying to be a big country; adopting a stance neither our depth nor our talent can justify.
Fans still hanker for a New Zealand cricket team which may not necessarily have the talent but possesses the fight; they see the Black Caps as overpaid and underwhelming in commitment and results.
NZC are playing a long game and thus need a bit of time yet with their three-team development but they risk what I can only call the "chimp syndrome".
That comes from the time when, as a young reporter, I was sent to the Auckland zoo for a story. We ended up in front of the chimps' enclosure, where one male perched on a swing, exposing parts of his physique mercifully usually hidden.
Suddenly, we were joined by a busload of young women from St Cuthbert's College, the posh girls' school in Epsom, on an outing. They crowded round.
Two things happened. First, the girls giggled and nudged each other as they realised that the chimp was showing off. Second, the chimp, encouraged by all this attention, then began doing something so anti-social that it is best not to attempt to describe it.
This increased the giggling and the intensity of the chimp's attention to himself until he performed an act so completely atrocious that the St Cuth's girls squealed and fled, leaving the chimp sitting on his swing, looking extremely pleased with himself.
If NZC insists on fiddling with things for too long, they risk the fans scattering like schoolgirls.