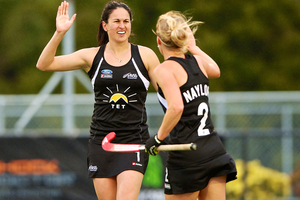 It was never likely to be close and it certainly wasn't as the women's Black Sticks hammered Samoa 26-0 in hockey's Oceania Cup in Stratford this afternoon.
The victory confirmed what everybody has known all week that New Zealand will play Australia in tomorrow's decider.
Samoa, the world No 60, rarely threatened the world No 3 Black Sticks in a game that resembled little more than an organised training run.
A raft of players got on the score sheet and when the home side had a 13-0 lead by halftime in sunny, albeit windy, conditions at the TET MultiSports Centre, the result was never in question.
During these light hit-outs against the Pacific Island sides, the Black Sticks strive to work on holding possession, linking passes together and their execution in the front third.
They were fairly clinical in front of goal and added another 13 goals in the second spell as the romp continued.
Black Sticks defender Emily Naylor, the team's most-capped player, sat out the game with illness but will be fit for tomorrow's final against Australia.
The Black Sticks beat Australia 3-2 during pool play on Thursday, so tomorrow's decider promises to be a tightly-contested affair.
Earlier today, the Australian women beat Papua New Guinea 26-0, while the Kookaburras eased past PNG's men's team 16-0 in the 10am encounter.
The men's Black Sticks were due to play Samoa at 2pm today.
- APNZ