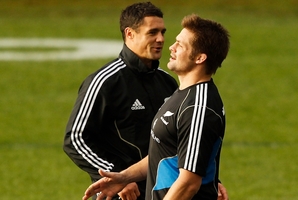 Given that the All Blacks' theme this week is development and the side to face Japan is crammed with young and new faces, the presence of Richie McCaw and Daniel Carter is anomalous.
Quite obviously, they are not development athletes. They remain the biggest names in the New Zealand game despite sabbaticals and injury keeping them mostly in the shadows this year.
Their continued absences combined with the All Blacks' unbeaten record, have led to a new era: one where the national side has learned to win without them.
Which has in turn led to murmurings about the sun setting.
There have been suggestions that these two loyal and great servants are now on the descent.
Neither of them believe that for a second.
They both signed for the long haul convinced they'd make it to 2015 and nothing has changed their view on that.
Still, they both accept that over the next four weeks, they need to provide tangible evidence that their respective empires are not crumbling.
That exercise begins today.
It might only be Japan, but that won't matter: McCaw and Carter want to provide timely reminders of their class in Tokyo.
They are old dogs who are not being asked to learn new tricks, just deliver their best old ones.
All that time this year sitting in the stands watching others hasn't been easy for either player.
It's stirred them up a bit, made them, not that they'd forgotten, acutely conscious that their jerseys are not theirs by divine right.
"I think the big thing that you always realise is that the team is bigger than any individual," says McCaw. "I am probably speaking for Dan here as well.
"You never take your spot for granted and I guess I have been lucky not to have had too many long term injuries.
"I have had to watch over half the games this year and it is great to see the team do well.
"And it reminds you that you have to do the job when you come back in and you can't take anything for granted.
"That has always been the way," says McCaw.
"If you look over history, someone who was perceived to be a big part of the team was filled in and everyone moved on and it will be the same with us."
It will be - just not yet. The time hasn't come for them to be swept away by the new generation.
Both of them have spoken this week about the genuine level of excitement they feel at finally being injury free and ready to play.
Mentally they are stoked and for the first time in an age, both have reached this point in the season with plenty left physically.
Their lack of game time is now a distinct advantage in their quest to be the dominant forces in November.
"It's a little bit different," says McCaw of reaching November with so little rugby behind him.
"There is a wee bit of frustration at having not played much and having the niggly injuries ...
"I think it would be easy to let the frustration get on top of you.
"You can't do anything about that and you just have to get it right.
"There was a point there when I missed out in the Australian game that I was a bit annoyed about it.
"But I am feeling fresh and it would be nice to finish with four strong weeks."
Time and again McCaw has astonished with his resilience.
Physically and mentally there have been few tougher.
The doubters can point to his age, the carnage that has been inflicted and justify why they are no longer sure this great warrior is indeed that.
It's risky, though.
McCaw has survived 13 seasons in test football because he's always been able to cope with the pressure of expectation; he's never felt the need to prove himself to anyone other than his teammates.
He looks fit. He says he's hungry and who would doubt him?
It's much the same with Carter - he has built a dynasty that he's not ready to write off just yet.