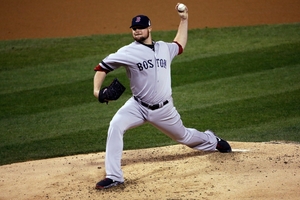 Jon Lester pitched the Boston Red Sox within a whisker of yet another World Series championship.
Lester got the better of Adam Wainwright once again and journeyman David Ross hit a tiebreaking double in the seventh inning as the Red Sox beat the St Louis Cardinals 3-1 yesterday to take a 3-2 Series edge.
David Ortiz delivered his latest big hit, too, sending this bearded band of Red Sox back to Fenway Park with a chance to clinch their third crown in a decade. Not since 1918 has Boston won the title at its own ballpark.
John Lackey gets the first chance tomorrow against St Louis rookie Michael Wacha. A Cardinals win would set up a most spooky proposition for both teams - game 7 on Halloween night.
Lester enhanced his reputation as an October ace with every pitch. He allowed one run and four hits in 7 2-3 innings, striking out seven without a walk.
Nearly the same line he had in beating Wainwright in the opener.
The lefty who has won all three of his career World Series starts had just one scary inning, when Matt Holliday homered in the fourth, Carlos Beltran flied out to the wall and Yadier Molina hit a liner. Other than that, Lester was sharp as a knife.
Koji Uehara closed for his second save. No crazy endings this time, either, after one night with an obstruction call and the next with Uehara's game-finishing pickoff.
Ortiz put the Red Sox ahead with an RBI double in the first, hitting the first pitch after Dustin Pedroia doubled on an 0-2 curve.
Ross, a graybeard on a team led by scraggly veterans, broke a 1-1 tie when he hooked a drive just inside the left-field line, and the ball bounced into the seats for a go-ahead double. Jacoby Ellsbury later hit an RBI single, and Ross was thrown out at the plate trying to score on the play.
The St Louis hitters went quietly, a couple slinging their bats after routine popups and fly balls and others questioning the solid calls by plate umpire Bill Miller.
Holliday shook St Louis' slumber and broke Lester's string with his second home run of the Series. Lester had pitched 16 1-3 scoreless innings in his first three World Series starts before Holliday tagged him.
That was all St Louis got. Not even a revamped lineup that included the hobbled Allen Craig helped the Cards.
Meanwhile, Ortiz enjoyed even more success after moving from the cleanup spot to the third slot. He is 11 for 15 (.733) in this Series with two homers, six RBIs and four walks.
Ortiz hit an early double and single while swinging at first pitches, and tied the Series record by reaching base in nine straight plate appearances.
Wainwright changed things the next time Ortiz came up, varying his tempo and delivery. Ortiz still hit it hard while lining out to centre.
Wainwright struck out 10 in seven innings, becoming the first Cardinals pitcher to reach double digits in the Series since Bob Gibson did it twice in 1968 against Detroit.
- AP