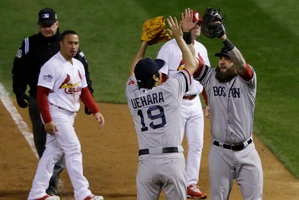 Jonny Gomes hit a tiebreaking, three-run homer in the sixth inning as the Boston Red Sox rallied to beat the St Louis Cardinals 4-2 yesterday, levelling the World Series at two games each.
David Ortiz added three hits and also encouraged the Red Sox, shouting at his teammates from second base after a double and later gathering them for a huddle in the dugout.
With the Red Sox in danger of falling into a 3-1 deficit, it was a stroke of good fortune by Gomes - he was a late addition to the lineup when Shane Victorino's back stiffened up, and was 0 for 9 in the series before connecting off reliever Seth Maness.
Gomes spread his arms wide as he rounded first base and banged his chest.
Gomes showed off the patience that marks Boston hitters. He drew a 10-pitch walk from Cardinals starter Lance Lynn the previous inning, helping set up Stephen Drew's tying sacrifice fly. John Lackey made a rare relief appearance to set up for Koji Uehara's save.
Game 5 is today as Cardinals ace Adam Wainwright faces Jon Lester in a rematch of the opener when Boston romped.
Ortiz did more than his share, as usual. He singled, doubled and walked his first three times up, making him 7 for 10 in the Series. He'd also reached base in 11 of 15 plate appearances.
Lynn retired the first two batters in the sixth before Dustin Pedroia singled. Lynn wanted no part of Ortiz and walked on four pitches.
Maness relieved, and Gomes connected on a 2-2 pitch. Maness doubled over near the mound while Gomes circled the bases.
Even with the Cardinals holding a 2-1 edge, the sellout crowd at Busch Stadium sounded a little quiet at the start. Perhaps the fans were drained by the late-night theatrics the previous day, when an obstruction call gave St Louis a 5-4 win.
- AP