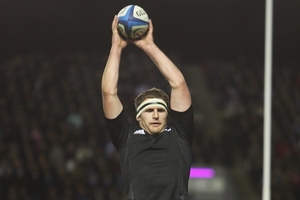 Gems emerge on every All Black trip. Some need a lot of polishing work while others just sparkle from the beginning.
Kieran Read and Cory Jane were the uncut numbers who shone on their first foray in the black jersey in 2008 and have continued to add layers of lustre to the All Blacks and their personal credentials.
Nine of those in the group of 38 involved on the tour to Hong Kong and Europe five years ago were new to the jersey.
Read and Jane have grown to be special All Blacks, Liam Messam and Ben Franks are solid reliable performers and Hosea Gear, Scott Waldrom, Jamie Mackintosh, Hika Elliot and Alby Mathewson claimed their national honours on that tour.
The coaches took it slowly with Read, waiting to blood him on the end-of-year tour rather than in the mid-season domestic and Tri-Nations internationals.
Now Steve Hansen and his staff are taking it quietly with Read and a bunch of others they are sending directly to Paris to prepare for the test against France rather than the development outing against Japan.
Read, Israel Dagg and Ben Smith are the only All Blacks who have started all 10 tests this year, and after his workload in the Super 15 and other responsibilities, it is a useful time to give Read a leave pass for the Tokyo test this week.
He is the standout No 8 in world rugby and with 58 tests as he turned 28 over the weekend, Read is working his way through what the selectors hope will be a lengthy plateau of rich form. He is not the captain but he is one of the important leaders.
Read knows his game inside and out and how to get the best out of others around him. His sporting attitude and manner is similar to his skipper. He understands hard work and used all that perseverance and his undoubted range of athletic ability to rise to automatic selection in the black jersey.
At the beginning he had Rodney So'oialo, Sione Laukai, Jerome Kaino and Messam play ahead of him as No8 as he was integrated into the side as a blindside flanker on the 2008 tour to the UK.
Read made his debut one test later than Jane, against Scotland, when he played in the No6 jersey and then had three other appearances on tour from the bench. His first start at No8 came a year later against France but he had claimed that regular place in 2010.
On his first All Black trip, Read was part of a group who won every test although there was a very narrow squeak in the wonderful midweek contest against Munster.
The All Blacks lost to the Barbarians (Read did not play) in 2009, fell to the Wallabies in Hong Kong in 2010, and were then well beaten by England last year at Twickenham.
A handful of uncapped players are on this trip, heading first to Japan and then on to link with the rest of the squad in Europe. The search never stops to find rugby nuggets to be part of the next major foray to the 2015 World Cup. The question is, who will bring some of that Read lustre?