Daniel Carter is in an unusual position, having to prove himself all over again, writes Gregor Paul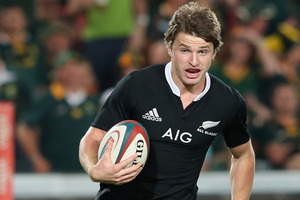 It comes as something as a shock to realise that Beauden Barrett has never started an All Black test as a first five-eighths.
After all, the 22-year-old has 14 tests under his belt already and has scored 48 points, including three tries. But 13 of those 14 tests have been as a substitute, the one time he took the field in the starting XV was as a fullback in the 42-12 test win over Italy on the end of year tour last year. Even then he was injured and gave way to Cory Jane after less than an hour following a fine utility display.
He would have enjoyed a start had he not been injured when Tom Taylor made his debut in August against the Wallabies when both Dan Carter and Aaron Cruden were injured - if Barrett hadn't been crocked himself.
The closest he has come to a start was when he replaced Carter after only 15 minutes against the Springboks in that vital 29-15 victory in this season's Rugby Championship. That was infamous for the Bismarck du Plessis charge on Carter and for the All Blacks knocking the Boks over without Richie McCaw, Carter or Israel Dagg.
Barrett's command and poise that day was startling, certainly for the Springboks. One cracking run carved out 60mof territory and led to a try to Brodie Retallick. He showed a sidestep, a fend and tactical kicking and awareness not previously seen in his game at this level.
So here's the thing. Don't be surprised if the All Black No 3 first five is demanding higher recognition by the end of this year's tour to France, England and Ireland.
Aaron Cruden clearly has the inside running as the All Black pilot while Carter is enjoying next year's sabbatical. Cruden (26 tests, 12 as a sub, 168 points) has had a successful season and there is no doubt that the All Black selectors see him as the man to turn to when Carter is unavailable.
Fair enough, too. That pinpoint kick to Julian Savea to begin the sweeping movement leading to Sam Cane's try against the Wallabies last Saturday was a thing of beauty. It underlined the fact that Cruden, at this point, still has a more developed and perhaps more subtle all-round game than Barrett.
It's also undeniable that Barrett is suited to the substitute's role. His pace and ability to make and accelerate through holes makes him invaluable later in the game when such holes are becoming more common as defences tire. Even when defences recognise Barrett's danger and cover him, they tend to leave gaps for other players.
The end of year tour is fast becoming an audition for who will take Carter's place (now and in the future) and it will be no surprise to see Barrett staking a real claim, depending on how much game time he gets.
The Cruden or Barrett question is already beginning to heat up, with both first fives having their fan bases. Maybe not since the days of Andrew Mehrtens and Carlos Spencer have there been two No 10s in such a close who-should-play debate.
There are other similarities with Mehrtens v Spencer. Cruden has the stronger all-round game, his tactical kicking is better at this stage, his goalkicking has greatly improved since his early days and he has the ability to take the ball to the line with some sinuous running and clever pass delivery.
However, there are many who are betting that Barrett might make the better long term choice. He has more range with his goalkicking, his tactical kicking also has more length, if perhaps not yet Cruden's accuracy and reliability, and he has blistering, deceptive pace.
Barrett also unfairly earned a reputation for shoddy defensive work after a couple of concentration lapses but he is taller than Cruden and more robust. His running game is the better of the two - Cruden tends to try to put other players through gaps; Barrett tends to take them himself and can be a devastating runner with that pace and fend, the latter a bit reminiscent of Carter's.
Both are excellent support players and run intelligent lines. Now it just remains to see who gets how much game time in Europe.