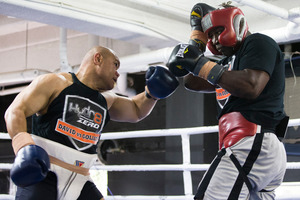 David Tua's open sparring session was called off early today by new trainer Henry Schuster but the heavyweight impressed at times in his four rounds against Raymond Olubowele.
Tua looked trim and powerful, his weight around 110kg ahead of his fight against Belarusian Alexander Ustinov at Claudelands Arena on November 16.
The 40-year-old, wearing a lower abdominal guard, but, somewhat controversially, no headgear, took a while to warm into his work and was caught twice in quick succession by Olubowele's left jab in the first round. He was never troubled by the 125kg, 2.01m Olubowele, a Canadian born in Nigeria, though, despite leaving himself open at times.
Tua sat back on his punches until the fourth three-minute round, when he showed more of his speed and agility, driving forward to land combinations on Olubowele, including an over-hand right and trademark leaping left hook.
Tua was scheduled to spar with Julius Long for another four rounds, but Schuster called it off, preferring to engage Tua in pad work for four rounds instead.
"It's good to have the media here at sparring, but as a trainer I don't want to express too much we're trying to achieve here. Four rounds, that's enough,'' Schuster said.
Tua, who was scheduled to fight Ustinov at the end of August but suffered a left calf injury which forced a postponement, didn't favour his leg during his workouts.
He remained cautious about his physical condition, saying there was still a lot of work to do.
Afterwards he was asked by New Zealand Professional Boxing Association president Lance Revill why he wasn't wearing headgear, Tua answering: "I totally understand where you're coming from. It's too close to the fight and the last thing I need is a cut. I took it upon myself maybe five or six years ago not to wear headgear because I know I've got a decent chin, but I think sometimes when I wear headgear it allows me to be too comfortable, I don't move my head.''
- APNZ