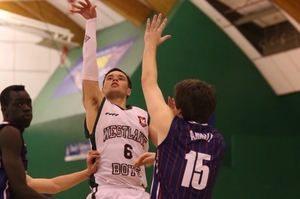 In an all-North Harbour affair, Westlake BHS successfully defended their New Zealand SS basketball title with a 78-68 win over arch rivals Rangitoto in Palmerston North.
A 28-8 surge through the second quarter, keyed by high-scoring guard Jaylen Gerrand, was instrumental in turning a double-figure deficit into a halftime lead.
Rangitoto jumped out to 16-4 with forward Isaac Davidson quickly heating up from the arc. He had three from long range in the opening quarter as Rangitoto took a 25-12 lead by the end of the first quarter.
The defending champions emerged from the first break with a new sense of purpose and with Gerrand repeatedly finding his way to the basket, Westlake reeled off 18 straight points to turn the tables and take a 40-33 halftime advantage.
Rangitoto got their noses in front briefly late in the third period but WBHS had control of the game through Gerrand, and, defensively, Josh Howe and recent Tall Black recruit Jack Salt.
For a time, it became a shootout between Gerrand, who scored 41 points in their semifinal win over Rosmini, and Rangitoto sharpshooter Derone Raukawa, who had two 40-point efforts earlier in the tournament.
Gerrand scored 15 points in Westlake's second-quarter burst, but was able to share his load among his teammates, especially after Matt Freeman returned from his foul-imposed spell on the bench.
Once Davidson's early threat passed, Raukawa became Rangitoto's only real offensive weapon, finishing with a game-high 35 points, including five three-pointers.
Gerrand led his side with 26 points but had support from Howe (22 points/15 rebounds) and Salt (14 points/16 rebounds).
A production line for the Tall Blacks in recent years, Westlake have now won the title five times with current or future internationals including Corey Webster, Tom Abercrombie, Rob Loe, Tai Webster and most recently, Salt in their ranks.
Rosmini finished third to complete a clean sweep for North Harbour schools in the boy's championship.
Meanwhile, forward Tessa Boagni capped a remarkable sporting year leading Christchurch GHS to a runaway 65-46 win over Rangitoto to capture the girls' title.
Boagni dominated her head-to-head match-up against Tall Fern rival Penina Davidson from the start to lay the foundation for the southerners' success and earn MVP honours in the process.
Earlier this year Boagni was named MVP at the national SS volleyball tournament at the same venue after guiding Christchurch GHS to a surprise runner-up finish.
Boagni scored her team's first eight points as they established an early 10-3 advantage. Nine unanswered points to start the second quarter - forward Polly Hill scored seven of them - stretched the lead out to double figures. By halftime Christchurch were 38-23 ahead.
The lead reached 25 points late in the third period, and while Davidson and Ella Fotu rallied their side within 13 down the stretch, it was too late to change the result.
The victory also earned Christchurch the distinction of being the only unbeaten team at the week-long tournament.
Boagni finished with 28 points/17 rebounds, while Hill had three three-pointers in her 14 points, and Gabriela Edmondson contributed eight points/13 rebounds and six assists.
Davidson battled hard for her 20 points/18 rebounds and Fotu had 15 points, but the pair shot 16/46 between them.
Results
Basketball
National SS championships (Palmerston North)

Boys
Final: WBHS 78 (Jaylen Gerrand 28, Josh Howe 20, Jack Salt 15, Matt Freeman 11)
Rangitoto 68 (Derone Raukawa 35, Isaac Davidson 16). HT: 40-33.
3rd/4th: Rosmini 77 Otago BHS 75.
5th/6th: Fraser HS 81 St Patricks 73.
7th/8th: Hastings BHS 80 Nayland College 60.
9th/10th: AGS 111 Palmerston North BHS 87.
11th/12th: Nelson 65 New Plymouth BHS 49.
13th/14th: St Johns (Hamilton) 98 Tauranga Boys 79.
15th/16th: Napier BHS 70 Western Heights 68.
17th/18th: Hutt Valley HS 73 St Kentigern 60.
19th/20th: Lincoln 71 Christchurch BHS 61.
21st/22nd: Middleton Grange 85 Massey HS 63.
23rd/24th: Avondale 85 Hamilton BHS 74.

Tournament team: Jaylen Gerrand (WBHS), Hyrum Harris (Fraser), Josh Howe (WBHS), Izayah Mauriohooho Le'afa (St Patricks), Derone Raukawa (Rangitoto),
Angus Riley (Nayland), Jack Salt (WBHS), Tohi Smith-Milner (Rosmini), Sam Timmins (Otago BHS), Luke Witteveen (Rangitoto).
MVP: Gerrand.

Girls
Final: Christchurch Girls HS 65 (Tessa Boagni 28, Polly Hill 14) Rangitoto 46 (Penina Davidson 20, Ella Fotu 15). HT: 38-23.
3rd/4th: WGHS 69 Hutt Valley 53.
5th/6th: Wellington GC 60 Sacred Heart (New Plymouth) 52.
7th/8th: New Plymouth GHS 70 Massey HS 58.
9th/10th: St Peters School 69 Rangiora 52.
11th/12th: MAGS 53 Hastings GHS 45.
13th/14th: St Kentigern 66 Fraser HS 56.
15TH/16TH: Waimea College 56 Tauranga Girls 50.
17th/18th: AGGS 58 Napier GHS 55.
19th/20th: Hamilton GHS 61 Ashburton College 40.
21st/22nd: Waikato Diocesan 51 Rangi Ruru 40.
Tournament team: Wuanyei Ah-Hing (Massey), Stella Beck (Hutt Valley), Tessa Boagni (Christchurch GHS), Penina Davidson (Rangitoto), Gabriela Edmondson (Christchurch GHS), Ashlee Fane (Christchurch GHS), Ella Fotu (Rangitoto), Tegan Graham (Wellington Girls), Bronwyn Kjestrup (WGHS), Laken Wairau (Christchurch GHS).
MVP: Boagni.

Cycling
NZ SS road championships
Boys
Individual road races
Under-20: Regan Gough (Central Hawkes Bay) 1h 10m 1, Harry Elworthy (Takapuna Grammar) same time, 2, John Newman-Watt (Massey HS) at 5sec 3, Corby Price (Hamilton BHS) at 58s 4, Joshua Haggerty (Southland BH) at 1m 06s 5.
Under-17: Ayden Lamont (Christchurch BHS) 46m 16s 1, Rhys Jones (Hamilton BHS) st 2, Sam Dobbs (Palmerston North BHS) st 3, Alex West (Aquinas College) st 4, Thomas Carter st 5.
Under-16 A: Campbell Stewart (Palmerston North BHS) 49m 07s, 1, Connor Brown (St Kentigern) at 2s 2, Robert Stannard (Palmerston North BHS) at 32s, 3, Herbie Wasson (WBHS) at 33s 4; Joshua Smith (Christchurch BHS) st 5.
Under-16 B: Vincent Allen (TGS) 55m 26s 1, Andreas Knapp (Macleans) at 2s 2, Josh Turner (New Plymouth BHS) at 13s 3, Bailey Firman-Yearsley (St Kentigern) at 15s 4, Satyam Dewan (Macleans) at 16s 5.
Under-15 A: Oscar Elworthy (TGS) 27m 19s 1, Aaron Wyllie (AGS) at 13s 2, William Young (AGS) at 14s 3, Sam Titter-Downer (Strathallan) st 4, Lochlan Gilder (Sacred Heart) st 5.
Under-15B: Sam Sladden (Cots) 30m 28s 1, Ben Hastoe (AGS) at 1s 2; Sebastian Ramdhanie (TGS) st 3, Matthew Graham (Macleans) at 2s 4, Josh Hipkins (St Peters) at 3s 5.
Under-14: Adam McPheat (TGS) 27m 59s 1, Thomas Garbett (Waiopehu) at 13s 2, Sam Wilkinson (Scots College) at 17s 3, George Jackson (Rongotai) at 32s 4, Zachery Taylor (Christchurch BHS) st 5.

Points races
Under-20: Callum Saunders (Marlborough Boys) 16 points, 1; Jordan Castle (Palmerston North BHS) 13, 2; Haggerty 8, 3; Price 5, 4; Newman-Watt 5, 5.
Under-17: Josh Kendall (Palmerston North BHS) 13, 1; West 8, 2; Louis Higginson (Scots College) 6, 3; Alex Wilson (AGS) 6, 4; Max Jones (Christchurch BHS) 5, 5.
Under-16: Stewart 20, 1; Smith 7, 2; Stannard 4, 3; Alex Morreau (AGS) 3, 4; Hugo Jones (Christchurch BHS) 3, 5.
Under-15: Jacob Kench (TGS) 15, 1; Young 4, 2; Wylie 4, 3; Titter-Dower 3, 4; Elworthy 3, 5.
Under-14: Garbett 11, 1; McPheat 9, 2; Jamie Leitch (Strathallan) 9, 3; George Leitch (Rongotai) 3, 4; Whitiora Rolleston (Glendowie) 1, 5.
Under-13 Boys: Dylan McCullough (St Kentigern) 10, 1; Kiaan Watts (Hilltop School Taupo) 5, 2; Finn Fisher- Black (Nelson Intermediate) 5, 3; Finn Sherlock (Scots) 1, 4; Callum Walsh (St Kentigern) 1, 5.

Team time trials
Under-20: Hamilton BHS 23m 23.44s 1, Christchurch BHS 23m 30.32s 2, Massey HS 24m 00.59s 3, AGS 24m 11.88s 4, St Kentigern 24m 23.53s 5.
Under-16: Palmerston North BHS A 24m 40.71s 1, Palmerston North BHS B 26m 06.98s 2, AGS 26m 30.69s 3, St Kentigern 26m 42.61s 4, Christchurch BHS 26m 48.09s 5.
Year 7/8: St Kentigern 29m 55.36s 1, Palmerston North Intermediate Normal School 32m 06.31s 2, Scots College 33m 26.72s 3, Palmerston North Intermediate Normal School 34m 56.23s 4, Fairhall 35m 20.66 5.

Girls
Individual road races
Under-20: Renee Wootton (Massey HS) 56m 24s 1, Susan Clow (St Kentigern) at 3s 2, Nina Wollaston (Baradene) st, 3, Olivia Hyland (Diocesan) at 27s 4, Gabby Brown (Diocesan) st 5.
Under-17: Bryony Botha (Rangitoto) 55m 30s 1, Lydia Rippon (Massey) st 2, Hannah Gumbley (Rangitoto) at 1s 3, Elizabeth Stannard (Palmerston North GHS) st 4, Sophie Pulford (St Peters School) at 2s 5.
Under-16 Girls: Michaela Drummond (Palmerston North GHS) 59m 03s 1, Phoebe McCaughan (Villa Maria) at 1s 2; Mikayla Harvey (St Kentigern) st 3, Elizabeth Mudford (St Kentigern) st 4, Jade Regan (Diocesan) st 5.
Under-14: Jenna Merrick (Baradene) 29m 13s 1, Kendall Vaughan (St Cuthberts) at 1m 06s 2, Hannah Knighton (Waikato Diocesan) at 1m 07s 3, Jess Clarke (Taupo Intermediate) at 1m 08s 4, Amy Horn (Horowhenua) st 5.
Under-13: Aly Wollaston (Baradene) 31m 20s 1, McKenzie Mane (Southwell) at 49s 2, Courtney King (Southwell) at 1m 00s 3, Olivia King (Southwell) st 4, Ava Morrow (Rangi Ruru) at 1m 43s 5.
Points races
Under-20: Wootton 12 points, 1; Kate Stewart (Palmerston North GHS) 9, 2; Phoebe Treseder (Iona College) 5, 3; Maggie Allan (Waikato Diocesan) 5, 4; Sammy Croft (Massey) 5, 5.
Under-17: Botha 12, 1; Ellie Cowan (TGS 8, 2; Yasmin Kessner (Baradene) 7, 3; Stannard 6, 4; Rippon 6, 5.
Under-16: Drummond 14, 1; Harvey (St Kentigern) 12, 2; Katherine Badham (TGS) 10, 3; McCaughan 4, 4; Charlotte Milne (ACG Parnell) 3, 5.
Under-15: Emily Shearman (Palmerston North GHS) 11, 1; Georgia Danford (St Mary's) 5, 2; Libby Arbuckle (Palmerston North GHS) 5, 3; Olivia Reiber (Villa Maria) 5, 4; Georgia Clarke (St Cuthberts) 3, 5.
Under-14: Shaane Fulton (Waimea Intermediate) 8, 1; Jenna Merrick (Baradene) 8, 2; Niamh Fisher- Black (Nelson Intermediate) 7, 3; Erica Dysart (Baradene e) 5, 4; Alicia Hoskin (Gisborne GHS) 3, 5.
Under-13: Wollaston 10, 1; Morrow 4, 2; Eva Parkinson (Southwell) 4, 3; C King 1, 4; O King 5.

Team time trials
Under-20: St Kentigern 27m 42.87s 1, Massey HS 27m 58.29s 2, Waikato Diocesan 28m 45.13s 3, St Peter's School 28m 49.56s 4, Rangi Ruru 28m 53.35s 5.
Under-16: Palmerston North GHS 29m 16.56s 1, Baradene 29m 43.06s 2, Villa Maria 30m 14.70s 3, Diocesan 30m 25.50s 4, Waikato Diocesan 30m 30.16s 5.
Year 7/8: Baradene A 31m 34.16s 1, St Cuthberts 33m 19.59s 2, Palmerston North Intermediate Normal School 33m 27.36s 3, Baradene B 33m 44.54s 4, Southwell 35m 12.28s 5.

Netball
NZ SS championships
(Auckland Netball Centre)
Final: MAGS 41 St Marys (Wellington) 23.
3rd/4th: Wellington East Girls 35 Baradene 30.
5th/6th: John Paul College 34 Pukekohe 29.
7th/8th: AGGS 29 WGHS 19.
9th/10th: Tu Toa 38 South Otago 29.
11th/12th: St Margarets 31New Plymouth GHS 22.
13th/14th: Palmerston North GHS 29 Southland GHS 24.
15th/16th: Waimea College 42 Christchurch GHS 32.

Tournament selection
Emma May Murray (Tu Toa), Chiara Semple (MAGS), Maia Wilson (MAGS), Monalisa Groom (St Mary's College, Wellington), Emma O'Neill (Wellington East GC), Jessica Milicich (Baradene), Meretini Fuimaono (MAGS), Whitney Souness (St Marys), Sam Sinclair (John Paul College), Mila Reuelu-Buchanan (Wellington East), Mereana Makea (Wellington East), Jamie-Lee Price (MAGS), Holly Fowler (MAGS), Kelly Jury (New Plymouth GHS), Kayla Williams (Tu Toa), Sulu Feleti Faanana (AGGS).