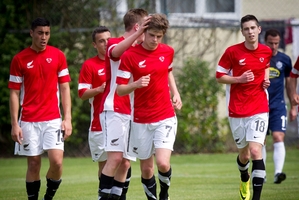 Kiwi fans could be forgiven for a blast of nostalgia when they see the New Zealand team sheet at this month's Fifa Under-17 World Cup.
With names like Rufer, Ridenton and de Jong, the Young All Whites have a familiar feel for those who watched soccer back when the shorts were short and the moustaches weren't restricted to the month of November.
But this is the next generation, a group of young men with football in their genes and role models in the immediate family.
Alex Rufer, Matt Ridenton and Andre de Jong will be following in their fathers' footsteps when New Zealand's World Cup campaign begins against Uruguay on October 17.
Shane Rufer, Michael Ridenton and Fred de Jong all played for the All Whites between 1979 and 1993, while Alex is also the nephew of Oceania player of the century Wynton.
Having the moniker of this country's greatest player on the back of your jersey could come with entitlement but, before his team flew out to the United Arab Emirates today, the 17-year-old Rufer was more focused on making a name for himself.
"There is sometimes pressure because you think, 'Oh, just because my name is Rufer that I have to play because they've done it'," he said. "But I chose to be a footballer and that's what I want to do."
The trio agreed it could be both burden and incentive to have an All White at the head of the table, with stories of the good old days designed to inspire but perhaps also creating a weight of expectation.
If any expectations do exist, they are certainly being met. Rufer will rejoin the Wellington Phoenix when he completes his international duty, and the attacking midfielder will be one of the Young All Whites' key weapons this month.
"I've always had that to look up to - with my dad playing for the All Whites and my uncle, obviously, as well," he said. "I've always had something to strive towards."
Ridenton, who last month captained St Kents to the national title, pursued the path of football out of a desire common in any son - wanting to be like his dad.
"My father's always inspired me to play football, because you want to be like him," he said. "Especially because he represented New Zealand, you always want to follow in his footsteps."
De Jong said his father, now New Zealand Football's high performance manager, didn't regale him with too many tales of his playing days, preferring his son to blaze his own trail.
"He gives me a few good stories but doesn't really pass down too much," the 16-year-old said. "I'm proud to be following my dad but that's not overly important."
De Jong thought the New Zealand side would "do all right" in the UAE, but Rufer had a far greater goal, one which would go some way to seeing the trio step out of their fathers' shadows. "I want to win the World Cup."
- APNZ