Oracle supremo Larry Ellison would be an outstanding movie villain, if he should want a career change from making billions of dollars with his software company. When the 34th America's Cup coverage cut to the 69-yearold and his meticulously trimmed beard and knowing smile it had the capacity to make you quake. What a formidable adversary ... It got Andrew Alderson thinking about sports personalities who would make terrific baddies.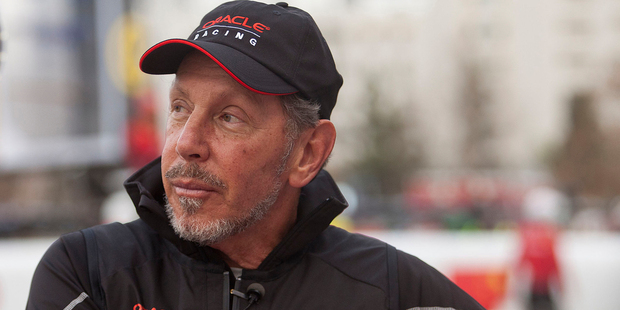 Cameron and Tyler Winklevoss
Best suited role: Olympic sportsmen get into multi-million dollar lawsuit over cutting-edge social media technology.
Character and film example: The Social Network (where actor Armie Hammer played the twins) or Wall St's Gordon Gekko.
Why: The American twins rowed to last in the final of the men's pair at the Beijing Olympics. They have a knack for venture capitalism and sued Facebook founder Mark Zuckerberg for millions by alleging he pinched their idea-ConnectU-and produced his own concept which subsequently dominated the market. If The Social Network is a gauge, these two can channel charming, calculating and chilling, all in the dual package.
Should be on the Hollywood shortlist for future Wall St-type dramas.
Shane Warne
Best suited role: An uncompromising, ruthless, cunning dictator; just like he was with his leg-spinners.
Character and film example: Cobra Kai Sensei from the original Karate Kid.
Why: Like Cobra Kai Sensei's instructions to "sweep the leg" in reference to Daniel-san's dodgy limb, Warne was a master at pinpointing weakness. When Michael Slater was batting in a Sheffield Shield match, Warne and Victorian wicketkeeper Darren Berry took turns saying 'tick' and 'tock' between balls, hinting the opener's temper was about to explode. When Slater holed out, it's understood they bellowed 'kaboom' and laughed as he trudged to the pavilion. Also, when Warne took a banned diuretic before the 2003 World Cup he blamed his Mum. Directors, bring your scripts this way.
Nikolai Valuev
Best suited role: Pulverising fellow humans, putting his boxing skills to choreographic use.
Character and film example: Goliath, in his myriad forms over the years.
Why: At 2.13m(seven foot) tall with a 2.16m reach, the Russian was intimidating.
Ahead of a fight in November 2009 opponent David Haye described him as: "The ugliest thing I have ever seen. I have watched Lord of the Rings and films with strange-looking people, but for a human being to look like he does is pretty shocking." Valuev even has acting experience, playing the main role in the 2008 film Stonehead about an ex-boxer who has lost his memory.
Dennis Conner
Best suited role: Mouthing nasty one-liners or stomping off talk show sets.
Character and film example: Jack Nicholson's Joker in the 1989 version of Batman.
Why: Few characters have incensed New Zealanders as much in popular culture. Conner instinctively knew how to rile Kiwis up whether it was the crocodile smile before exiting Paul Holmes' 1989 television interview or telling designer Bruce Farr "you're a loser, get off the stage" when Conner's catamaran defeated KZ1 for the Auld Mug in 1988. Jimmy Spithill might be a divisive character at times, but he's got nothing on the maestro.
Manu Vatuvei
Best suited role: Intimidating with silence while showcasing his bejewelled mouth.
Character and film example: Jaws in the Bond films The Spy Who Loved Me and Moonraker.
Why: When your nickname's The Beast, the marketing to get an audition is half complete. Open your mouth to reveal two gold-plated incisors and the directors would be asking you to name your price.
Perhaps he could take the next celebrity step by getting his bottom teeth replaced by diamonds, Kanye West-style. Like any decent villain he'd also need one discernable weakness. The film might have to end with him placed under the high ball.
Nadzeya Ostapchuk
Best suited role: Adding vitamins to her porridge to create special throwing powers.
Character and film example: Not so much a villain, more a freak - David Banner aka The Incredible Hulk.
Why: Okay, Ostapchuk didn't bombard herself with an accidental overdose of gamma radiation like Banner/The Hulk to develop her superhuman powers with the shot.
She made do with the banned drug metenolone and apparently cut down on her trips to the disco. Nevertheless, it did the job, stealing Val Adams opportunity to be lauded at the London Olympics for winning a second Olympic gold medal. Like Banner, Ostapchuk is now in hiding, wondering whether she'll be banned for life.
Will Carling
Best suited role: As an Englishman generating anger in dominions of the former BritishEmpire.
Character and film example: Edward I aka 'Edward Longshanks' in Braveheart.
Why: The former England captain was most lambasted in Scotland.
In 1990, aged 24, he was reviled as "Thatcher's captain" in the Grand Slam finale at Murrayfield in the wake of the British Prime Minister's devastating reforms. The Scots inspired by an emotional crowd rendition of Flower of Scotland went on to defeat England to win the Grand Slam. Years later Carling's candid reflections in The Grudge made compelling reading. Among the horrors, he spoke about having his photo plastered over a Edinburgh pub urinal where patrons preferred to douse him rather than the Saddam Hussein model next door. As the publican observed: "Our customers seem to forgive mass genocide."
Jeff and Benedicte Tarango
Best suited role: Abusing anything that prevents them getting their own way.
Character and film example: the couple who rob the restaurant to start Pulp Fiction
Why: At Wimbledon in 1995, Tarango told the crowd to "shut up" after a disputed call in his match against Alexander Mronz.
The incident escalated as umpire Bruno Rebeuh pinged him for code violations. Tarango accused Rebeuh of being the "most corrupt official in the game" and eventually stormed off court. Rebeuh suffered further abuse when Tarango's wife, Benedicte, slapped him after he exited the chair. She said it was "good, 'cos those guys deserve a lesson". Tarango continued his volley of accusations at the post-match press conference.
Liz Ellis
Best suited role: An uncompromising boss constantly demanding excellence from her staff.
Character and film example: The real life Anna Wintour in The September Issue documentary.
Why: Ellis is not so much a villain, but more the player to be feared and respected most by the Silver Ferns during a 14-year international career where second-places were rare, notably at the 2003 world championships and 2006 Commonwealth Games. Ellis protected the goal circle like a hungry Doberman. As a solicitor admitted to the Australian Supreme Court in 1998, she knew only too well possession is 9/10ths of the law, or at least that's how she behaved on court.
Vinnie Jones
Best suited role: Something like Big Chris in Lock, Stock and Two Smoking Barrels.
Character and film example: Hang on, he was Big Chris in Lock, Stock and Two Smoking Barrels.
Why: Talk about art imitating life. Jones had a hard man image on the football pitch which has translated to movies. In 1992 he presented Soccer's Hard Men, a video featuring archived footage and advice for budding 'hard men'.
He was fined £20,000 and given a six-month suspended ban. His Wimbledon club chairman Sam Hammam branded him a "mosquito brain".
Jones once boasted after a fourweek ban: "The FA have given me a pat on the back. I've taken violence off the terracing and onto the pitch."