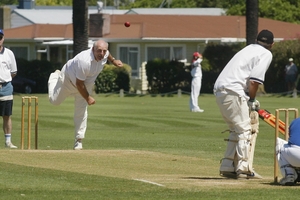 You have to love this time of year.
It's a time when the air in suburbia hangs heavy with the smell of cut grass and pool chemicals; when you'll catch the whiff of barbecue burn-offs and illegally imported Double Happys.
Water-cooler chatter begins to revolve around the staff Christmas party and whether anyone will top the efforts of last year when Doug was caught in the stationery room with Cheryl, and Steve the sociopath from accounts payable ended up at Auckland Central after an early morning incident at the casino.
It's the time of year that you suddenly take an interest in Philip Duncan's long-range weather forecast. It's also the time when you ignore said forecast and tentatively book a non-powered site at your favourite campground (while making discreet inquiries as to whether the family of Birkenhead bogans that almost ruined last year's holiday are coming back).
It's the time when you can stroll through the front door after an eight-hour shift, walk straight to the fridge and rip the scab off a cold one without your beloved giving you the 12-Step-Programme stare. On the flipside, it's also that time when putting on those over-priced running shoes with the Flyknit upper and Kevlar construction - that you bought with the best of intentions this time last year - doesn't seem quite so far-fetched.
Yes, optimism abounds in October and nowhere is that enthusiastic zeal captured so exquisitely than the nets of every cricket club in the country. If cricket was as cool as, say, multi-hull boat racing, the opening weeks of the season would be a photo-essayist's dream.
Every athletic dream that's ever died a slow and painful death can be spotted at a pre-season cricket practice.
There's the medium-pacer /lower middle-order batsman who has wintered well, desperately trying to coax the cable-knit sleeveless jumper over his distended gut. He'll end up with a reasonable haul of 31 wickets at an average of 23, but a woeful batting average of 7.4, just one score over 20 and several calamitous run outs.
There's the once barnacle-like opener, still a loving applicator of linseed oil to his Gray-Nicolls Powerspot, who believes this will be a return to form after a fallow six years. Deep down he knows 10 years of staring at computer screens as assistant IT manager at a mid-sized downtown accounting firm means he's having difficulty picking up the length, but he's hoping the opthalmological exercises he's Googled will reverse the damage. He'll score a couple of gritty 50s in losing causes, though a strike rate in the 20s will earn the wrath of his less cultured, more gung-ho teammates.
There's the wicketkeeper who won't shut up and has the irritating habit of making the most routine stop look like he's dealing with Shane Warne bowling out of the footmarks. He'll score vital runs batting at No 8, white ant the captain and have at least three skirmishes with the opposition that threaten to turn physical.
And, obviously, there's the young fast bowler straight out of school, who paws at the turf and can work up genuine, and at times frightening, pace in the nets. He has the physique of Adonis but a heart the size of a sultana. His excuses for a lack of hostility and, more importantly, wickets, will include: artificial wickets, Port Albert-clay wickets, wet run-ups, uneven landing areas, poor placement of the slips and gully, poor hands in the slips and gully, not enough overs, over-work, the breeze coming over the wrong shoulder, a bad batch of Kookaburras, a niggling calf strain, woeful umpiring and lucky batsmen.
None of the above will stop Young Fast Bowler believing it is just a matter of time before his raw talent is recognised at a higher level. Incidentally, along with the stylish No4 batsman who may or may not, depending on who you talk to, have a sponsorship deal with Gunn and Moore, the young fast bowler will always have the hottest girlfriend in the team. Unlike the girlfriend of the stylish, privately-educated No4, she will not be around next season.
At every club in the country, these characters are gathering. Their early season failures will be written off as rust. In their heads this long, hot summer will reap them rich rewards.
It's a time for optimists.
It's the very best time.