Every team has one the unlikely stars, and they're good for rugby at all levels
Two days ago, the most unlikely star of provincial rugby kicked 24 points for Tasman as they demolished Waikato in the midweek Nelson twilight.
Six days earlier, he scored 28 points against Northland, which is significant for the fact that was a single-game scoring record for the Makos. He kicked 20 points on debut, too, and has taken just five appearances to pass 100 season points. Then he signed a Super Rugby deal with the Hurricanes.
In any other first-class competition, in any other country, he would be a human headline. In New Zealand, Marty Banks' nickname may as well be "Who?"
Well, this is Marty Banks: the kid who last year became the first Buller player to score 100 points in a single season as he led the side from the back to its first Lochore Cup title; Marty Banks, the kid from Reefton who decided not to follow his family into the West Coast coal mines; Marty Banks, the gangly fullback-cum-first five-eighth with the Brillo-Pad curls whose team mates call him "Battler".
Marty Banks, the undisputed cult hero of the ITM Cup.
Oh, don't get me wrong. Every team has its cult stars. Southland has "Whoppa" Mackintosh and Hawkes Bay has "Moo" Coman. North Harbour has Chris Smith, Canterbury has George Whitelock. Manawatu has Callum Gibbins and Otago has "Quasi" Parker. Northland has "Pantene" Pryor, Taranaki has Kurt Baker. But Banks is different. Banks is the white rabbit in the ITM Cup magic show. While the others developed over time, Banks, it seems, simply appeared. And that got me thinking. What is it with the Marty Banks of this game? What is it about these cult figures that make them so important to their teams? Is it pure ability? I'm not sure it is, though in the case of each of the players above, their talent is undeniable. Smith, for example, is the competition's leading lineout forward, Gibbins its biggest tackler, Parker its leading scorer and Coman its biggest bleeder.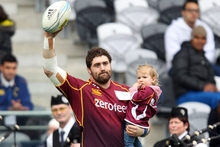 But there is much more to this story than facts and figures.
Each of these players embodies something more. An ethos, perhaps, or maybe a defining characteristic that we see in ourselves or, more likely, would like to see in ourselves - an exuberance, an earnestness, a passion, a hunger, a spirit ... a personality.
Author Martin Amis once bemoaned the use of the word "personality" as it related to professional tennis players, saying, "if, from now on, I can put 'personality' between quotation marks, and use it as an exact synonym of a seven-letter duosyllable starting with 'a' and ending with 'e' (and also featuring, in order of appearance, an s, an h, an o, and an l), why, then personality and I are going to get along just fine".
Fortunately, in ITM Cup rugby at least, personality is not a dirty word.
These players, and the many others like them (Auckland's "Hurricane" Hadleigh Parkes, to name one) are the touchstones of their team. When they play well, their teams play well. When they succeed on the field their teams celebrate their successes.
A try to Banks inevitably leads to a cascading celebration; when Coman bleeds, the team sees red; when Whoppa brings up his 100th appearance for the Stags, the team find a way to win, for him. They are team men and they find themselves in the spotlight, rather ironically, because they do their damndest to avoid it.
There is an expressionist sense about the ITM Cup. It's a competition that reflects the imperfections in the game and exists in a distorted world of emotion and feeling, but one which ultimately is validated by its ability to produce a new generation of players to paint on the realist canvas of Super Rugby.
To see players like Banks and Parkes, Mark Abbott and James Lowe, Liam Squire and Gareth Evans selected for franchise football sides because of their efforts in this year's cup shows the format works at an individual level
More importantly, it shows there is a place for the unheralded and unbridled, the rough and the ready, the cult icon and the ultimate team man. I have been accused of being a "cheerleader" for provincial rugby and I plead guilty without hesitation. If this competition can give us one Marty Banks a year, its job is done. The fact is, it gives us so much more. You just have to look a little harder.
Well done, Auckland
Say what you like about Auckland Rugby but the truth is the team in the back office have been working hard this season to showcase the values and heritage of the game. A few weeks ago the players walked onto Eden Park with their fathers, children and, in at least one case, mothers, to celebrate Father's Day. Last Saturday, the side hosted a heritage day for veterans and Waka Nathan walked the ball out. We need more of this. Rugby could do with a greater focus on its tradition and history.
A haka first?
It's the battle between the Chiefs' two first division provincial rivals tomorrow and there is talk that the challenge could be well and truly laid down before the match. It is known that both teams have developed their own haka this season and while Waikato have performed theirs once already (against Ngati Porou East Coast in a pre-season Shield challenge), Bay of Plenty have kept theirs behind closed doors. We'll see how fired up the teams are, given that this is a fight with extra meaning in terms of the relegation zone.
Highlander high five
It's been a tough few months for Highlanders fans as the team has shed players following the disastrous 2013 season, but one new signing is certainly showcasing his talents in the ITM Cup. Not much has been said of Patrick Osborne but it should be. The Canterbury winger leads all players in metres run this season, sits third in offloads and defenders beaten, fifth in clean breaks and seventh in carries. It will be very interesting to watch him against the Steelers on Sunday afternoon.