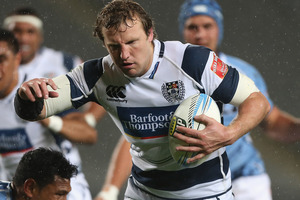 Hurricanes coach Mark Hammett has bolstered his squad for next season with the franchise today confirming the signatures of Tasman's Marty Banks, Auckland's Hadleigh Parkes and Mark Abbott from Hawke's Bay.
Hammett said all three had shown great form throughout the ITM Cup and each would bring different qualities to Super Rugby.
"One of the things we've talked to them about is that we want players coming here who are committed to playing winning rugby. These guys are three in-form players who will all get a good shot in 2014.''
In his first year with the Tasman Makos, Banks has been prominent at first five-eighth and fullback and Hammett said his incredible kicking game had been hard to ignore.
"Leon McDonald speaks very highly of his abilities and it's clear he's got some big strengths. He knows how to attack the line, he has a strong pass from both sides, and he's an exceptional goal-kicker.''
Banks, 24, said it felt like all his Christmases and birthdays had come at once when he got the call last weekend.
"After a season playing in Russia in 2011, I decided to come home to have another crack at New Zealand rugby. In all honesty, I thought the opportunity to play ITM Cup had passed me by,'' he said.
"After a great year back home with Buller in the Heartland Championship things have just got better and better. I couldn't be more excited about playing Super Rugby for the Hurricanes in 2014.''
Hammett said it was also great to have Parkes on board, who would no doubt bring a great deal of experience and leadership to the team.
The Auckland captain spent one season with the Blues in 2012, before heading to the Southern Kings in 2013.
Originally from Manawatu, Parkes said he was thrilled to be coming back to the his home region.
"It's just awesome. I grew up supporting the Hurricanes, I actually went to their first game with my family in Palmerston North, so it'll be great to come back and play with them.''
In Abbott's case, Hammett said the strong lock had demonstrated a dedication and hard-working attitude during his time with Hawke's Bay, which appealed to the Hurricanes.
"We're now in a really strong position with 30 contracted players and I'm really happy with the quality of those players that we've got.''
The final squad will be announced on October 29, and Hammett said they were continuing to look for players to pull into their wider training squad.
- APNZ