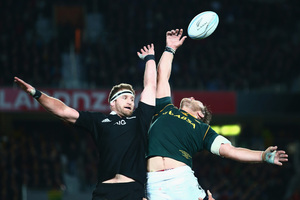 The Springboks have not shied away in throwing the first salvo that their target against the All Blacks will be scoring four tries and ultimately lifting the Rugby Championship trophy.
As out of character as it may be for the Boks to engage in war talk before the battle, it would have come as a surprise as well that the All Blacks were not to be outdone by the old enemy as they promised to fight fire with fire yesterday.
All Blacks assistant coach Ian Foster delivered a chilling reminder to the Springboks that the masters of the running game are still the reigning world champions.
The Springboks may boast of being the most clinical of finishers in world rugby as they led the try-scoring charts last year and this year but the All Blacks refuse to be willing bystanders in the biggest match they would have played since their World Cup triumph in 2011.
"I think we have been tracking very well defensively. We certainly know that South Africa will ask a lot of questions of us, they did so at Eden Park. Clearly this is going to be another big game. But it is not about us minimising what they are going to do or worrying about that. It is about us getting excited about playing on this big occasion and that is where the team is at. We are keeping things simple in our mind, it's a chance to play the South Africans and we are excited by it.
"We want to play our game. We don't enjoy sitting there and tackling for 80 minutes, we actually like getting the ball and playing. That's what we train for and that is going to be our intent and it won't be changing," said Foster yesterday.
Even without the Springboks talking up the obvious challenge ahead of them, Foster was at his sarcastic best in stating the Springboks' predicament.
"I'm not clever enough to figure out if it is a bluff or a double bluff. I guess the maths is they have to (score four tries) if they want to win the Rugby Championship.
"It doesn't change much for us, to be frank. We have a chance to play South Africa at Ellis Park and that is a big enough motivating factor fullstop."
- Independent Newspapers, SA