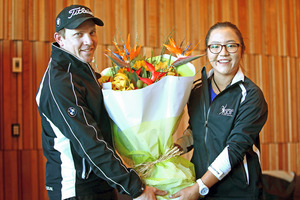 Behind a white post and rail fence on Albany Highway lie two humble buildings; one is brick and tile, the other whitewashed with a corrugated iron roof. They have been the headquarters for a renaissance in New Zealand golf.
A clue to why is in the framed photo hanging in the entrance hallway. A young girl holds a trophy almost as large as her torso. A couple of Canadian Mounties assist her on either side. Inscribed on the photo in black felt pen is a message: "Thank you IOG. Amazing 2012! What a team. LK"
Now another photo needs to feature, given Lydia Ko has repeated the dose by winning a second Canadian Open this year. IOG is the Institute of Golf, the organisation 16-year-old Ko has worked with since 2009 when her coach Guy Wilson joined the IOG team.
The exterior hints at abodes capable of housing the average Kiwi family but the interiors are a contrast to three bedrooms, lounge, dining and kitchen. Rooms are devoted to physiotherapy, strength and conditioning, as well as enough technical equipment to sharpen the flaws of serial golfing hackers.
There's the ultrasound putting machine; the K-vest, whose sensors measure alignment, posture and rotation; and Swinguru, where an infra-red camera breaks down your swing. Add a simulator and the hit-as-many-balls-as-you-like policy in all-weather nets out back and it's no wonder golfers of all ages are lining up to engage.
Coach Craig Dixon set up the Institute of Golf in 2008. The name might sound like a government department but Dixon says it has been a marketing strategy coup, especially where overseas clients are concerned. The Ko factor has also lent authority but Dixon says they can't afford to rely on her as the sole drawcard with a professional career looming.
"You can't base a business model on an individual. We're lucky to work with 'Lyds' but our job is simple - provide services which enable her to play the game to the highest level, just like anyone. We provide her with the coaching but don't presume to have any other form of control.
"A lot of people - maybe all except Guy - didn't realise how good she was going to be. She came to us at the perfect time to benefit from physiotherapy and mental and physical conditioning. On her arrival (aged 12), we did a massive swing overhaul so when she was older and stronger, she'd be able to perform at the highest level. We're stoked; we feel like we've helped her as a team."
Dixon says a key factor in the continued success of their business is the academy.
"We look after about 40 young players on an annual basis in our academy. It is not just about ball bashing. Most are not just coming for one lesson, once a week. They are serious golfers and know the person next to them also wants to improve. We provide the programme and the facilities but tournament costs are up to them. They'll pay around $3,500 per annum; others might join for the likes of a six-week term.
"We're gradually building depth. Lydia can consult professionals like Mike Hendry, Peter Fowler and Nick Gillespie for advice, while younger children can be inspired practising next to her.
"We have kids who are off-the-charts-good at just six-years-old. We want to put parents in a position where they can decide what level they want their kids to play golf."
There appears no easier way. Take Ko - golf dominates her life. During the women's British Open last month at St Andrews, coach Wilson said when his charge has a 'day off' it still means at least two hours of practice. She spent the afternoon after her first round working on her pitching and putting. Wilson sometimes makes it more alluring by playing for a wager like hamburgers.
The next step for IOG is to become an international franchise operation over the next five to 10 years. They have satellite facilities at the Gulf Harbour and Waitemata courses but Dixon says a number of their clientele are making the effort to visit from East Asia.
"We've had offers (to set up) from China, Australia, Korea and Japan. We've had a lot of players visit from China, while my assistants and I have spent time coaching there. It's insane. I went over for 23 days last year to coach one guy whose father is a well-known comedian. The father's so successful, he's got his own plane and his friend owns a golf course which we stay on. They're part of a (Chinese) circle of multi-millionaires."