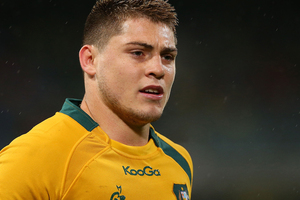 The immediate future of wayward Wallabies star James O'Connor hangs in the balance, with the test back being interviewed on Friday by the Australian Rugby Union integrity officer Phil Thomson.
The 44-test back is giving his side of a story that unfolded in Perth early last Sunday morning, when he was stopped from boarding an Air Asia flight to Bali because he was allegedly intoxicated.
O'Connor, who played against Argentina a few hours earlier, was subsequently named in the Wallabies squad for their final two Rugby Championship tests away to the Springboks and Argentina.
However his position in the squad, which gathers in Sydney on Saturday and leaves for Cape Town on Monday, would come under threat if any suspension was levied against him.
O'Connor has reportedly denied being drunk during the airport incident, but did admit to engaging in a heated argument over the seating arrangements for him and his girlfriend.
He was removed from the terminal by Australian Federal Police officers but ended up boarding a later flight to Bali.
A Wallabies spokesperson said on Friday that Thomson had already spoken to representatives of Air Asia and the Australian Federal Police.
He said it was unlikely any decision on O'Connor would be announced until late on Friday, or possibly on Saturday.
O'Connor is one of just three wingers named in the squad.
The incident and ensuing investigation comes at a delicate time for O'Connor.
The gifted back was believed to be on the verge of re-signing with the ARU and rejoining his original Super Rugby team Western Force after being cut loose by the Melbourne Rebels.
The latest incident adds to a list of black marks O'Connor incurred during the tenure of previous Wallabies coach Robbie Deans.
In 2010, he was allegedly involved in an altercation with teammates Quade Cooper and Kurtley Beale in Paris.
The following year he was suspended for one test after missing the Wallabies' World Cup squad announcement and photo following a night out.
In June this year, O'Connor and Beale were photographed at a fast-food outlet at 4am in the days leading up to the second Test against the British and Irish Lions.
- AAP