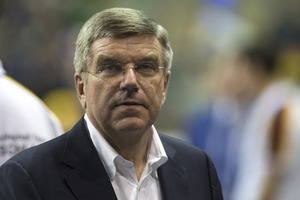 New Zealand officials are hoping to have new International Olympic Committee boss Thomas Bach in the country next year.
Bach was appointed IOC president to replace Belgian Jacques Rogge in Buenos Aires this month.
But there's another reason besides the obvious extension of the welcome mat.
The NZOC have made it clear they hope to host an IOC assembly before the end of this decade.
Having the 59-year-old German visit the country won't hurt that ambition.
''We are working really hard to bring Thomas to New Zealand, and hope to do that in the first half of next year," NZOC chairman Kereyn (crrt) Smith said.
''He's steeped in Olympic tradition and we think it's a priority to get him here and we will be cooperating with the Australian Olympic Committee and our Oceania neighbours to get a programme in place for him."
In Buenos Aires, the IOC decided the city to host the 2020 Olympics - Tokyo -reinstated wrestling on the Olympic programme, and confirmed Bach as president.
The idea of hosting an assembly of similar magnitude is on the NZOC's aspiration list.
''We think we are a reasonably significant player despite our size and you want to build those relationships early," Smith added.
Auckland will host a Commonwealth Games Federation general assembly in August 2015. Among the key decisions of that conference will be the confirming of the host city for the 2022 Games.
The 2018 Games will be held on the Gold Coast.
''That's a really neat opportunity to host an international commonwealth community," Smith said.
''Hosting an event of that size (71 nations) is a good stepping stone for us looking at hosting an IOC session."