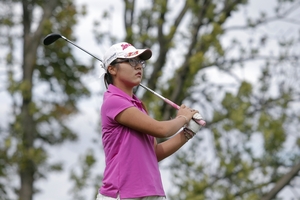 Lydia Ko has finally indicated she will turn professional next year and it's a move that will be accompanied with lofty expectations.
She's 16, currently navigating her way through Year 12 at Pinehurst School on Auckland's North Shore, and is also the fifth-ranked female golfer on the planet; it's mind boggling.
Her record as an amateur in professional tournaments is incredible - 25 starts, four wins, seven top-five finishes and she has never, yep, never, missed a cut.
Every press conference with Ko always includes the standard line of questioning about when she will start receiving cheques for her efforts rather than spot prizes. That switch will happen in 2014.
After she finished a remarkable second at the Evian Championship in France during the weekend, Ko confirmed she will "definitely" become a professional player next year. She won't play any more tournaments this year as she focuses on her schooling.
As she began her climb to international recognition, Ko always insisted the money didn't matter to her and it's a good thing it doesn't, because she has already left more than $1 million on the table in prize money alone plus much more in endorsements.
There's never a perfect time to turn professional given the extra pressure and expectation that comes with the move but there's no denying Ko is one of the world's premier players, so she may as well be paid for her work.
A turn to the professional ranks will bring different challenges, though. When an amateur plays in a professional event it's considered a notable feat if they make the cut or finish well, but when it's your full-time job it's just part of the week-to-week grind.
Given the results she has put on the board, the hype around her will be ramped up and people will, unfairly, expect miracles from her. But give Ko time and she's the sort of player who could deliver them.
The LPGA rules dictate players must be 18 to join the Tour - unless an exemption is granted - and preliminary discussions between Ko's camp and the LPGA have already taken place.
With the interest surrounding Ko there's no reason she should be denied.
Her world ranking and impeccable playing record in professional events ensures she will get enough starts as soon as she makes the jump.
Ko will turn 17 next April, and by then she will have had the opportunity to defend her New Zealand Women's Open title at Clearwater.
At last year's New Zealand Open, Ko had a press conference of her own and she couldn't understand all the attention around her - she was probably right too considering it was the men's event, Ko was just there as a guest.
That attention is only going to grow from here.
- APNZ