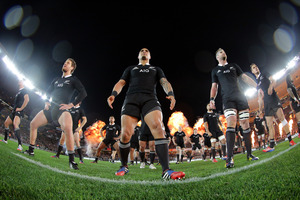 It is now more probable than possible that the All Blacks will play in the United States late next year as part of their World Cup preparations.
A game in the US has been a long-time coming - on the to-do list for several years and pretty much top of the agenda since AIG came on board as a major sponsor this time last year.
The only issue that needs to be sorted now is who the All Blacks will play in early November next year. The plan is to replicate this year's end of season tour, which will see the All Blacks take a younger, development-style squad to Japan for one test on their way to three clashes in Europe where the senior players will be waiting.
A similar four-game journey late next year, starting in the US then moving to Europe, is on the cards. It is unlikely the US Eagles will be the All Blacks' opponent, however.
A handful of America's best players are contracted to European clubs and are unlikely to be released for a clash that will fall outside the IRB test window.
It is more likely the All Blacks will try to arrange a fixture against a composite side - perhaps the Barbarians, who would be able to cobble together a half-decent team even outside an official release window.
The venue depends on who the All Blacks end up playing. Several missions to the States recently have unearthed potential stadiums that would be keen to host the All Blacks.
The West Coast is viewed as US rugby's stronghold, although there has long been a belief that a game in Boston, or New York, against Ireland would hold huge appeal.
The New Zealand Rugby Union is determined to complete a deal, as the national body is convinced the US is a sleeping giant that could be awoken to yield significant financial opportunity. Playing a test there is seen as the first big nudge - a chance to first make some money, but to also put the All Blacks in front of an audience that already has an appreciation of contact sports.
The prospect of playing in the US has been on the cards for several years. In 2009, the All Blacks were set to play Australia in Denver, but the deal fell through at the last minute, which saw the fourth Bledisloe Cup encounter of that year played in Tokyo instead.
AIG's involvement has increased the focus on the US, as they are head-quartered in New York and are keen to see the profile of the game grow in their home market.
They wanted the All Blacks to play in the US this year but had to settle for the Maori instead. They will play two games, one in Canada and one in Philadelphia in November.