Selling other countries our technical and tactical rugby knowledge has gone too far, writes Gregor Paul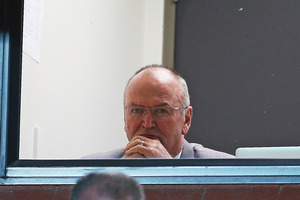 South Africa appear to be the clear and present danger but there is a more basic threat nearer to home that has potential to bite New Zealand rugby harder.
Too much intellectual property is being given away - tactical, technical and conditioning secrets, motivational tools and in some cases, specific knowledge on individuals are being handed to opponents.
There is a fine line to tread, as there is a desire at the administrative level to develop and promote the game in geographic areas and ways that could benefit New Zealand.
Against that, the national body has to guard against those who are simply making financial gain by selling information and expertise to those willing to pay for it.
It's time for the New Zealand Rugby Union to ask whether they have the balance right - the landscape is fast-changing and it might be there is too much of the latter masquerading as the former.
Last week highlighted the dangers the game here faces in terms of protecting knowledge.
Sir Graham Henry was in the Pumas' coaching box - a contributing member of Argentina's management team. Yet, he's also the technical director at the Blues where he has been instrumental in developing All Blacks Steven Luatua, Francis Saili and Charles Piutau.
He knows the strengths and weaknesses of all three and the Pumas kicked off in Hamilton no doubt armed with a dossier of intelligence on how to target and unsettle the 22-year-old Saili making his debut.
Given the lengths to which the All Blacks go to make sure no one spies on them at training, it is anomalous that a rival international coach is allowed to be hands-on with individual test players for eight months of the year.
"We had an agreement with Graham and Argentina for a period of time that he would assist them as they tried to get competitive and comfortable in this (Rugby Championship) competition," says NZRU chief executive Steve Tew.
"We also saw some benefits in having him assist John Kirwan at the Blues particularly early on in his coaching career back here in New Zealand. So we have weighed that up and believe the benefits outweigh the risks. But it is something we will keep an eye on. It is awkward watching Sir Ted in the Pumas' coaching box, isn't it?"
Just as awkward to watch is the increasing number of Australian-qualified players in the ITM Cup. There are seven in this year's competition, all of whom are here with a view to returning to Australia better rugby players.
Among the imports is Reds flanker Beau Robinson, who missed most of this year's Super Rugby with injury. He's trying to play his way back into form and win a Wallaby spot. Also playing here is Kimami Sitauti, a former Australian sevens player and former under-20 lock Tom Murday.
The concern about this invasion lies on three fronts: first is the direct knowledge they will gain about the New Zealand way of doing things. Second is that they will benefit directly in terms of their ability and third, Australia's great weakness is that they don't have a provincial competition so why let their players have access to New Zealand's?
Indeed, Waratahs wing Peter Betham came here last year as an unknown, had a season with Tasman and is now on the verge of making the Wallabies.
There are just as serious issues in sevens where a number of provinces, most notably Taranaki, Bay of Plenty and Canterbury, are actively touting to host international sides to provide them with intensive training.
The elevation of sevens to the Olympics has meant there is a growing number of countries keen to improve and happy to pay to be coached by New Zealanders.
Lines are blurred in this debate because the NZRU has a strategic partnership with the United States, which, among other initiatives, has seen assistant All Black coaches Mike Cron and Mick Byrne provide week-long tuition to American players.
Pacific Islands players have also been given dispensation to play for New Zealand teams in Super Rugby despite not being All Black eligible. The challenge for the NZRU is to review where things are at and perhaps take a tougher stance on differentiating between genuine development and profiteering.
"It is a balancing act because we do want to help some nations develop and grow," says Tew. "But equally we live in an open, global rugby economy and our intellectual property particularly among the coaches and players is spread out all over the world.
"There is nothing we can do about that other than once a coach or player signs a contract to leave New Zealand, to restrict their access to what we have. The reality is IP (intellectual property) is going to be pretty stale, pretty quickly anyway but there are some sensitivities that we have to manage as best we can.
"But frankly, we are best trying to control what we can, which is growing our own physical and technical abilities and staying ahead of everyone else."