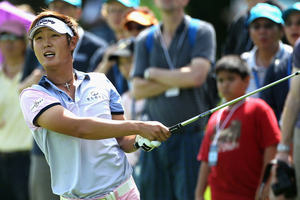 New Zealand professional Danny Lee has underlined his newfound maturity as he prepares for a return to the PGA Tour.
The 23-year-old has carded a five-under par 66 at the Nationwide Children's Hospital Championship in Ohio to be in a share of second place before play was suspended due to darkness.
Lee, who finished the Web.com Tour regular season in 15th place on the money list to earn a PGA Tour card, made six birdies and a bogey in his opening round at the OSU Golf Club to be only two shots back from American Jim Herman.
Lee began the week in 35th place in the re-rank on the Web.com finals series and is projected to climb to eighth on the Order of Merit on the current standings.
The former World No 1 amateur feels like he is coming into his own after four years as a professional.
``I feel like I am better prepared mentally,'' Lee said. ``Golf is a sport to which you have to dedicate consistent practice and training hours and there always is more room to improve.
``I think overall my on-course management has gotten better and I feel like I'm ready to go out there and win my first PGA tournament.''
Fellow Kiwi Tim Wilkinson, who has also qualified for next season's PGA Tour, opened with a disappointing one-over par 72 to be in 70th place.
The Manawatu pro finished 10th on the Web.com Tour standings at the end of the regular season and has since slipped to 21st. He is projected to drop to 36th on today's results.
A sub-plot between Lee and Wilkinson is also taking shape behind the scenes. Lee (308) is currently two places ahead of Wilkinson (310) in the official golf world rankings.
The pair are playing for the chance to join New Zealand No 1 Michael Hendry (188) at the World Cup of Golf at Royal Melbourne in November.
Selection to play in the US$7 million event is based on world rankings following the Web.com Tour Championship, with the top two players from each nation eligible for the 72-hole stroke play and team event which dates to 1954.
The conditions for qualification will be very similar to those proposed for the Olympics in 2016 and there is plenty of interest from the world's best players.
Meanwhile Steven Alker's dream of returning to the PGA Tour is all but gone. The 42-year-old from Hamilton, who missed the top 25 players by only one position, has failed to fire in the finals series.
Alker, who needs to finish inside the top-50 to earn a PGA Tour card, was three over par through 11 holes in Ohio before play was suspended.
Alker last played on the PGA Tour in 2003 and is unlikely to return next year, sitting 96th on the money-list with an expected drop to 108th.
- APNZ