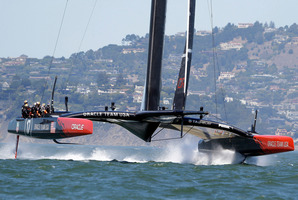 Landmark speeds upwards of 50 miles an hour are on the cards when the America's Cup finals get underway tomorrow morning.
The magical mark has been floated as a target for Team New Zealand and Oracle, though both have refused to confirm how fast they're going in training.
Luna Rossa helmsman Chris Draper has practiced against the Kiwis in the last fortnight, and says they've made huge gains.
"I suspect we'll see a number starting with a five at some point on one of th e dials of one of the boats in the match. Which is just insane, that was breaking the world speed record not very long ago.''
The first of two races tomorrow is underway at 8.15am (NZT).
The first leg of the first race of the America's Cup gives teams an idea of whose boat is fastest and who might have missed badly after spending $100 million or more.
Defending champion Oracle Team USA is starting with a two-point deficit after getting punished in the biggest cheating scandal in the regatta's 162-year history.
It's an American tycoon, software billionaire Larry Ellison, against Emirates Team New Zealand, who carry the hopes of their nation and a desire to sweep the Auld Mug back to the Royal New Zealand Yacht Squadron.
The short-course, inshore racing is both fan- and TV-friendly. Race 1 is scheduled to start at 1:15 p.m. local time (8.15am NZT), with Race 2 to follow an hour later. Two races are scheduled for Sunday.
For the Kiwis, it's still best-of-17, meaning they need to win nine races to win the Cup. With its penalty, Oracle Team USA must win 11 races to keep the trophy.
- Newstalk ZB / AP