NRL well ahead of the other code when it comes to publicity.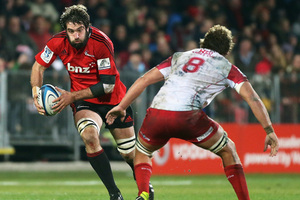 Down here in rugbyville, four brothers playing for one team gets wrapped around fish and chips then chucked in a bin, says Rattue. Photo / Getty Images
What's the difference between the Burgess and Whitelock family?
There's an obvious similarity - four brothers playing for one professional sports franchise. Weirdly, there is another one - the names Luke, Sam and George exist in both quartets. There's also an obvious difference - the Burgess boys play rugby league for South Sydney and the Whitelocks are with the Crusaders rugby mob.
Here's a very big difference. The rugby league publicity machine is all over the Burgess lads. Rugby league loves its family of oversized Brits.
Down here in rugbyville, four brothers playing for one team gets wrapped around fish and chips then chucked in a bin.
In the NRL, the Burgess brothers are a billboard. In New Zealand rugby, the Whitelock brothers are a secret mission. The NRL is in your face. New Zealand rugby is in your head.
The Burgess Brothers WERE the game when South Sydney recovered for a thrilling victory over the Wests Tigers. They got the royal treatment - in other words, they had the glorious honour of being interviewed by Phil Gould before the game. Gould kind of runs rugby league in Australia, so this is a significant moment.
It was a perfectly fine interview about the past and present, and Gould drew one conclusion - Sam, the middle brother between Luke and the twins and most famous player of the four, was the "boss".
There's more territory to be ploughed about the brothers' personalities and different playing abilities. Rugby league TV had a crack at that during the week, but the comments from players such as Issac Luke were hard to decipher credibility wise. Early days, stay tuned.
Moving on ... the match was called by Ray Warren. More over-the-top league royalty. Warren was constantly on the lookout for THAT moment - when all the Burgess brothers would be on the field together for the first time. When the moment arrived, the boys grabbed it, with all charging in to one tackle. Luke scored his first try for Souths.
Cameras kept panning to Mum Burgess in the stands, and her personality came bubbling on to the field at fulltime. Brad Fittler did what he does best, conducting one of the worst-on-field interviews ever with Mrs Burgess. We know that their dad has passed away. The boys hugged their mum. Okay, it was kitsch, but it was good fun.
Back in New Zealand, we wouldn't have a clue what Mrs Whitelock looks like, when the Whitelocks first played on the same field together, or if someone thinks one of the Whitelock brothers is the boss. Maybe I missed it, the point being that missing rugby revelry is easy to do because it hardly ever happens.
The NRL is helped by the Burgess brothers' endearing style, but you get the drift. The NRL likes a story. In a marked contrast, following New Zealand rugby often comes across as a duty.
On a similar theme ... I'm enjoying Scotty Stevenson's ITM Cup commentaries on Sky TV. It has taken quite a bit effort to come out of the closet on this one because he struck me as a sycophantic rugby gooseball at first. Had to get over myself on that one.
But come to think of it, the bright and breezy NRL thrives on blokes who, by and large, want to sugar coat the game then douse it in syrup although there is also a lot of sensible critiquing that apparently isn't allowed in rugby here, in case the NZRU gets upset.
Back to Scotty ... anyone who can dig some humour out of places like a near deserted Pukekohe Stadium on a grim night deserves a medal, and Stevenson can do that. Against futile attempts at alleged better judgment, he keeps making me smile. Importantly, he really does his homework. He loves the game as a game. Good on him, for being different.
One more thought: why are our rugby stadiums so quiet? Why don't the fans make much of a noise? Here's a joke. Knock knock - is there anyone at home? Yes, a rugby crowd.
Hey, different folks, different strokes. Maybe the Kiwi public likes its national sport dished up with large spoonfuls of reverence but rugby would be more interesting if it stopped taking itself so damn seriously.