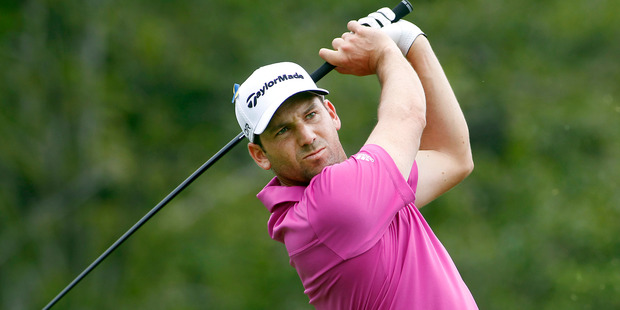 Sergio Garcia opened with five birdies in seven holes, closed with an eagle, and wound up as the guy everyone was chasing on Saturday at the Deutsche Bank Championship.
By everyone, that means 28 players within six shots of his lead with 36 holes to play. And somehow, that includes Phil Mickelson.
On another day of soft conditions and plenty of birdies on the TPC Boston, Garcia had a 7-under 64 in the morning which stood as the 36-hole lead when the day was over. The Spaniard was at 13-under 129, one short of the tournament record. He had a one-shot lead over Roberto Castro and Henrik Stenson.
Tiger Woods, in the 1-2-3-ranked grouping with Mickelson and Adam Scott that attracted massive galleries, made a 35-foot birdie putt on the 18th hole for a 67 and was among those within six shots of the lead.
Mickelson, however, managed to steal the show with a rollercoaster 71.
"I was playing terrible, and I shot even par," Mickelson said. "I could easily have shot myself out of the tournament.
I got it in the hazard I don't know how many times. If I go on and play the way I believe I'm going to this weekend, I'm going to look back at those nine holes as the key to the entire tournament."
He drove left into the hazard on No. 9, way right into the hazard on No. 10 and would have found another hazard on the par-3 11th except for hitting a tree.
He hit into the gallery to the left on No. 12 and into the gallery to the right on No. 13. His tee shot on the par-3 16th found the water for double bogey, but he managed to close with two birdies for a 71 and was five shots behind.
"It's embarrassing to hit shots like that, and to have a bunch of people out there, playing with Tiger and having every shot exposed on TV," Mickelson said. "But we all have our moments like that. And you just have to deal with it."
His recovery shot on the 11th was so good that Mickelson didn't bother explaining it. From a patchy lie, just inside 100 feet from the flag, the pin close to the edge, he took a full, hard swing with a wedge and hit it with so much spin that it rolled back to a few feet of the cup.
Stenson had eight birdies and a clean card in his round of 63. Castro was 7 under for his round at the turn and had to settle for a 65 after a rough patch in the middle of his back nine. Matt Kuchar and PGA champion Jason Dufner each had 66 and were three shots behind. Justin Rose had a 63 and was another shot back, along with Jordan Spieth, who had a 66.
Garcia is not a regular at the second FedEx Cup playoff event. He prefers to take this week off to rest, but he couldn't guarantee that he would be among the top 70 in the standings after the Deutsche Bank Championship who will advance to the third event.
"Sixteen guys could easily pass me if they played well," Garcia said. "So we decided to come here and make a little bit of an extra effort of playing five weeks in a row, which I don't usually enjoy very much."
Garcia looked as if he would be much higher in the FedEx Cup standings earlier this year, when he had top 10s in a World Golf Championship, the Masters and The Players Championship. But his year took a bad turn off the course. During a two-week spat with Woods that began at The Players Championship, Garcia jokingly said during a Q-and-A at an awards dinner in London that he would invite Woods over during for dinner during the U.S. Open and serve fried chicken.
He apologized the next day, though he was clearly rattled. Garcia hasn't finished in the top 20 since.
"Everything has been kind of a little difficult, but it's good," Garcia said. "It's been a good learning experience. You always have to try to take the positives out of all those things and learn from your mistakes. And hopefully, (they) make you a better player, a better person."