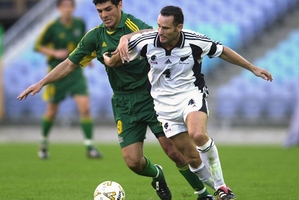 It's become a burning question for New Zealand football fraternity - why have right-sided defenders become left right out?
It shouldn't be that difficult but over the past decade the All Whites' search for a right fullback has been far flung and fruitless.
It's a little like the Labour Party's quest for a leader since the departure of Helen Clark; you know there should be a suitable candidate but each search gets no closer to the perfect person.
Across the past decade at least a dozen men have been tried on the right side of defence, with no one able to make the position his own.
On the eve of the four nation tournament in Saudi Arabia nothing has changed, as converted winger Leo Bertos remains the favourite to undertake the defensive duties on the right side of defence.
It's an unusual situation. Imagine the All Blacks existing for years without a genuine left wing, or the Silver Ferns unable to unearth a wing attack.
It's been a constant source of frustration for coach Ricki Herbert, the one position he just can't nail.
"I've always said if someone can find me a right back just give me a call," says Herbert. "Give me a ring and tell me one that could come in, step up and lock that down."
Herbert has used a multitude of players in the position since 2005, including converted attackers such as Bertos and Jeremy Brockie as well as David Mulligan, Winston Reid, Aaron Scott, James Prichett and Jeremy Christie.
It's a stark contrast to the 1980s and 1990s, when New Zealand had an abundance of defenders. The 1982 World Cup team featured John Hill, Kenny Cresswell, Glen Dods, Glen Adam and Herbert among players who could play in the right fullback spot.
"In my era, it was probably completely the reverse," says Herbert. "We had a whole lot of defenders to choose from but we lacked depth in attacking positions.
"[At the moment], it's right through the game," adds Herbert, who often used makeshift right-sided defenders at the Phoenix. "At the end of the day, you have got what you have got, and you can choose what you can choose."
Chris Zoricich was our last established right back and he retired more than a decade ago. After his debut in 1988, he had a virtual monopoly on the position until 2003, winning the vast majority of his 77 caps (57 A internationals) on the right side.
"It seems like the mindset has changed among footballers in this country," says Zoricich. "There are not many that are defensive-minded and the ones that are end up as centre backs or defensive midfielders. Those who end up at fullback tend to be put there, just because they have the physical attributes and are less attack-minded."
In his formative years, all Zoricich wanted to do was to play at the back, hoping to emulate his heroes like Gisborne City's Richard Mulligan.
"I was always more defensive-minded," says Zoricich. "That was my first instinct and my No1 duty. Now it is the other way around."
Zoricich, who played at Leyton Orient as well as Brisbane and Newcastle in the old Australian NSL, wonders if it is also due to the modern mindset.
"People don't want to be responsible for mistakes," reasons Zoricich. "When you are a defender one mistake can be so costly - it can be a game changer - and maybe that puts people off."
The position has evolved significantly in the past decade. Brazilian stars Cafu and Roberto Carlos were the forerunners of the trend to attack from the back. Cafu was known for his constant overlapping runs, earning the nickname 'Il Pendolino' (The Express Train) during his long Serie A stint while Carlos was also a formidable attacker.
Since them players such as Glen Johnson, Patrice Evra and Leighton Baines have continued the trend.
The dearth of flank defenders prompted Herbert's switch to 3-4-3 formation just before the World Cup qualifiers with Bahrain in 2009, away from the traditional back four.
"If I hadn't made my mind up - and trust me, I was the only one who made my mind up, I'm not sure we would have qualified," says Herbert of the change to a central back three with wing backs. "That was a management decision and I was hellbent on making that change."
Four years on, the All Whites are no closer to having a conventional back four, even though it is the default formation for most of the top international and club sides.
"If the national team is going to be better in years to come - you are going to have to find those players," says Herbert. "Otherwise how can you compete at the sharp end of the game. We all have a responsibility to try and improve it."