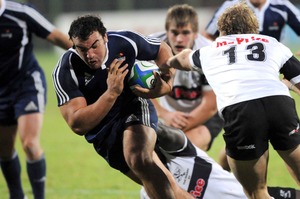 Sanzar reckon that by Christmas they will have a new plan for what Super Rugby should look like in 2016. Maybe they will, but contrary to impressions, they are a long way from agreement.
Support would appear to be growing for a split tournament - where Australia and New Zealand form a trans-Tasman conference and South Africa and Argentina play separately with the top teams from each moving into a combined playoff.
But that idea comes with three problems: the first, as admitted by New Zealand Rugby Union chief executive Steve Tew, is that the drop in revenue of not initially involving South Africa is likely to be greater than the drop in travel costs of not having to go there.
There is also a specific issue to New Zealand - their high performance team wants young players to be exposed to games in the Republic at Super Rugby level, but there is a feeling senior players could do without the travel as they will be on duty in South Africa for the All Blacks as well.
The biggest problem of all, however, is that introducing Argentinian sides might be too hard. For the sake of the integrity of the competition, the two conferences surely have to have equal numbers of teams?
If there are 10 in the trans-Tasman conference, there has to be 10 in the other. South Africa want six teams regardless and could probably whistle up another two - so the talk is of two sides being formed in Argentina.
Never mind wondering where they would get the players from - the bulk of the Pumas are offshore in France earning big money - could it really be an equitable set-up given the amount of travel that would be involved?
The alternate scenario being developed is that the competition continues mostly as is but expands to 18 teams. South Africa are adamant they want six teams - which would mean the New Zealand and Australian conferences each adding another team.
There is a desire to introduce teams from different countries but it would challenge the integrity concept if a team from Japan was in the Australian conference - on the basis they would have to spend an inordinate amount of time on the road.
Under an 18-team format there could be home and away fixtures within each conference as there are now - with the New Zealand sides playing three of the six sides in each of the other two conferences. This format would keep the tournament at its current length of 21 weeks - 16 pool games, two byes and a three-week play-off series.
But, the issue with that, is it won't solve the long-held problem that test players will still be denied the length of off season they need. This is not something that can be ignored.
There are four partners in these talks and reconciling that fact is in itself one of the biggest hurdles to overcome. There is New Zealand, Australia, South Africa and the players from all three nations, largely unified in both their representation and goals.
What has happened in the past - certainly in the last broadcast negotiation - is that the three national unions smash heads with each other for months, threaten and counter threaten, reach some compromise deal and then toss a document to the players for 'consultation'.
As the player associations in the three Sanzar nations grow individually stronger and collectively powerful under the auspices of the International Rugby Players' Association, common sense dictates they need a seat at the negotiation table: that a genuine consultative process needs to be followed.
Sanzar say that already happens. The players don't always agree and there is going to be an enormous amount of time wasted if a 'them' and 'us' mentality is at play in the current talks.
The players have a number of areas where they won't compromise - the length of off season being one: they don't want the season to start before March to ensure that All Blacks are given a 12-14 week rest and reconditioning window. They are also adamant that the June window has to be moved to July to allow Super Rugby, in whatever format, to be played in one continuous block.
If they can pull it off then the optimum outcome for the players would be an 18-week, unbroken competition, that starts in the first week of March and ends in the last week of June. They would head straight into the 'July' test programme and then a few weeks off before the commencement of the Rugby Championship - staying basically as is.
Where the dramas will really begin is if June can't be shifted. Sanzar are modelling different scenarios on that - they are proposing one option where Super Rugby is played concurrently with the test programme and another, where it takes a three-week hiatus as it currently does.
Neither of those two options sits with the key goal of building a competition with integrity which is why this whole process could be heading for a major bust-up and why Christmas is optimistic.