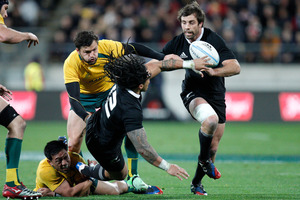 When previewing Saturday night's Wellington test, I was aware that suggesting the All Blacks are a ruthless mob was hardly one of rugby's great revelations.
Just check out the statistics over the past century or so, and while there is no ruthlessness column with a bunch of figures in it, all the other numbers add up to that logical conclusion.
However, riding alone, ruthlessness can be a relatively useless characteristic. It needs some help from a few other traits and perhaps the most important is patience.
There was a familiar script in the Bledisloe Cup matches in both Sydney and Wellington, where a naive Wallabies team seemed determined to force the All Blacks to display their patient ruthlessness, which of course they did.
Richie McCaw's men were like a bunch of snipers waiting for the enemy to carelessly stick his head out from behind a tree.
Five times in two games, "Bullet" Ben Smith pierced an all too flimsy armour.
As frustrating as it has been for Australian supporters, who believed the new era under Ewen McKenzie would bear immediate fruit, there is nothing but admiration for this constant that is the New Zealand All Blacks.
They have the capacity to resort to bells and whistles if need be, but when bread and butter is all that's required, that's all they tend to give. "Keep the powder dry unless otherwise necessary" might have been Steve Hansen's final instructions in both games.
The infuriating thing for the Wallabies is that they haven't maintained composure long enough to force them to go to the powder keg. Mistakes have been made at pivotal moments. Ben Mowen dropped a straightforward high ball, and in a blink of an eye Smith is over in the corner. The halftime whistle blows and whatever both coaches might have said is diluted. Words generally carry less weight because the Wallabies have been deflated and the All Blacks buoyed.
Although it was only a penalty in the Sydney match, again the All Blacks went to oranges lifted by a score in the dying moments of the first half. New Zealand are an 80-minute team, but those 10 minutes either side of the break seem to be when they have a heightened sense of awareness and duty.
Referee Jaco Peyper did not endear himself to the Wallabies and in the immediate aftermath of the match McKenzie gave him both barrels. While refereeing calls can halt momentum and completely change the course of a match, the great teams learn to live with the ebb and flow of the whistle.
In the latter part of Robbie Deans' tenure, personnel was changed quite regularly, often for the sake of tinkering. Hugh McMenamin took a different tack. He'll be annoyed his faith was not repaid by performance, and there will be changes against South Africa in Brisbane on Saturday week.
As a selector, he'll need to find that balance between ruthless and patient, but more importantly his players have to copy the All Blacks and get those two commodities working together.