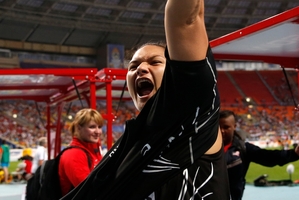 If you're wanting a ticket to next year's Commonwealth Games this week, you can apply from Mongolia or North Korea - but not from New Zealand.
New Zealand has been left off a drop-down menu of countries for delivery of tickets for the Games, which open in Glasgow in July next year.
But we're in good company. Australia, Canada, Malaysia and South Africa are also among 34 of the Commonwealth's 54 member states who are not on the menu.
NZ Olympic Committee communications manager Ashley Abbott said Australia and New Zealand are not there because they have been allocated blocks of tickets to be sold within each country.
But she said New Zealand's ticket sales would not be launched until next week. That will be too late for Scottish-born Tauranga publisher David Cadzow, 41, who has already spent about 800 ($1566) on tickets for his family, using his parents' home in Scotland as a delivery address.
"I was not aware of any access via New Zealand or Australia. That has certainly not been made clear to anyone," he said.
"One would have assumed that they would have launched at the same time, otherwise how would you know? Still, there might be some method in their madness, I have probably spent up for twice the price."
Mr Cadzow, who has lived in NZ for 17 years, has bought tickets for himself, his wife Ellen, their son Max, 14, and daughter Kim, 11. It will be their first trip to Scotland in six years and their first Commonwealth Games.
"We are going to see Valerie Adams in the athletics and a bit of swimming and a few other things, and the [rugby] sevens hopefully," he said.
The family had been waiting for international sales to open on Monday night (NZ time) and rushed to buy tickets yesterday because they close on September 16.
There is no mention on the Glasgow 2014 website, or in the 37-page official ticketing guide, of blocks of tickets allocated to any countries.
There is a link to "authorised ticket sales websites" including a New Zealand company, Hot Events, owned by House of Travel in Christchurch and Queenstown. But there is nothing on the Hot Events website about the Commonwealth Games.
Ms Abbott said NZ sales would be launched in association with House of Travel next week, but she did not know the exact day or how many tickets would be available.
"New Zealand's ticket allocation for Glasgow 2014 is not yet finalised, however we are expecting to be able provide New Zealanders with around 5000 tickets. Around 1000 tickets were sold for the Delhi Commonwealth Games," she said.
"While Glasgow 2014 are closing their ticket application process in September, ours will remain open, pending availability."
But Mr Cadzow said the international ticketing website should have alerted ticket buyers who logged in from a New Zealand email address, as he did, and forwarded them to the correct website.