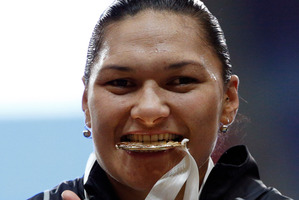 A day of the track and field world championships remain but Athletics New Zealand's campaign has ceased.
With Nick Willis missing the final of the 1500m, no New Zealanders are left to compete.
Stuart Farquhar wrapped up the campaign with 10th in the javelin.
Val Adams' fourth consecutive gold was the meet highlight. She remains the core reason track and field is forecast to receive $7.6 million of government funding through High Performance Sport New Zealand this Olympic cycle, a $900,000 increase on the previous four years.
Quentin Rew's personal best time of 3h 50m 27s to finish 17th in the 50km walk is also noteworthy. He bettered his London Games effort (where he finished 30th) by four minutes 36 seconds.
Finals for Farquhar and Zane Robertson (5000m) justified their attendance while Nick Willis came within 0.09s of the 1500m final in a blanket finish despite an injury-hampered build-up.
Angie Smit, on world championship debut, missed out on the 800m semifinals by one place while Mary Davies (marathon), Brent Newdick (decathlon) and Jake Robertson (5000m/10,000m) were below par.
Overall the performance almost duplicates what was achieved in Daegu, South Korea, two years ago. One gold medal and one personal best (Rew instead of Adams) but only three athletes out of a possible seven qualifying for finals as opposed to four out of seven in 2011.
ANZ high performance director Scott Goodman joined the organisation just before the last world championships. He assessed the team's performance two years on. "Overall I'm a bit disappointed. We saw some good things like Quentin's PB, Angie Smit's debut and Zane Robertson's finals appearance which bode well looking to the Rio Olympics, and obviously Val was sensational. She was really involved with our team this time and we sat her down with Angie and the Robertson boys [twins Jake and Zane] to ask 'what does it take to compete at major events?'
"Nick had a setback which saw him miss weeks of training. Brent's preparation has been interrupted over the last six months by his osteitis pubis problem [an inflammation of the lower abdomen and pelvis], plus he was on and off the loo between days one and two of the decathlon [with a gastro bug]. Then Jake fell in the bathtub a day before he competed in the 10,000m. It wasn't a bad, physical injury but it upset his psychological approach."
Goodman lamented the lack of top 16 finishes which guarantee athletes performance enhancement grants from High Performance Sport New Zealand.
"We were hoping to have five athletes in the top 16 [end result - three] and three in the top eight [end result - one] but it became difficult with Nick's situation and Kim Smith being ruled out of the 10,000m through injury. We also had two 17ths [Rew and Smit]. It's not devastating but not quite what we wanted either. HPSNZ will now have a look. I hope they're rational."