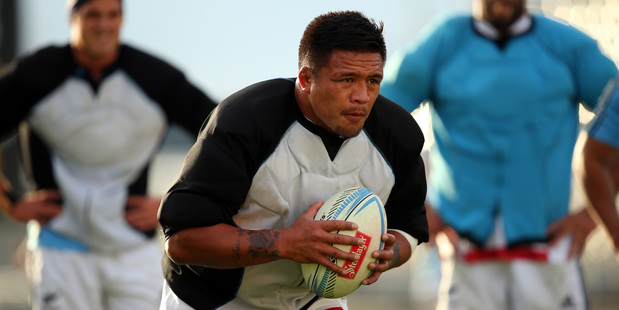 As is befitting the culture of the honest hard-man club to which they belong, neither Keven Mealamu nor Andrew Hore would say they have played particularly well in 2013. And yet they will both be in action on Saturday - double teaming the Wallabies as they have since 2008.
The old guard will be on deck once more - extending their respective international careers into a remarkable 13th season.
While their longevity and durability was once a source of celebration, it is now a minor source of concern.
They have been selected not because they have made a compelling case to be included but because others haven't. This wasn't the plan.
Charles Darwin and Steve Hansen wouldn't appear to be natural bedfellows, but the All Black coach and the great naturalist of the Victorian age do share a common belief in the theory of evolution. Hansen prefers for change to be organic, rather than manufactured.
He's not one to dramatically pull the plug on established players on the basis he feels it is time.
Instead, his strategy in regard to rejuvenating his ageing All Black side has been to introduce younger players gently.
They come in, they observe, they learn, they play off the bench and over a period of time they make an irresistible case for inclusion.
It's all about natural order - older men such as Ali Williams and Piri Weepu have been able to see for themselves that their time is over: that the time was right to make way for the emerging generation.
Dane Coles was selected last year with a view to beginning the evolution at hooker. He made four appearances off the bench in November and earned two starts against France in June.
There wasn't a hard and fast plan as such for the Rugby Championship, but the thinking pre-June was that Coles would mostly start with Mealamu and Hore swapping bench duties from test to test.
That might still be the plan - it might be that Coles' lack of game time in recent weeks has forced a short-term re-think, rather than a longer-term overhaul.
But it is hard to know. While Coles didn't do much wrong against France, he didn't do enough emphatically right and with the All Blacks keen to put a brand new Wallaby side back in the box on Saturday, Hansen has erred on the side of caution.
He knows exactly what he'll get from the old stagers, which by implication suggests he's still not sure exactly what Coles would deliver on a night when emotion will run high and the game will be intense.
The evolution has had to go on hold for now. Coles will come again - he'll start a test at some stage - but not until the All Blacks have a higher appetite for risk. That may be next week, it may not be until the test against Japan.
But the fact that it is not Saturday highlights that the All Blacks are overly reliant on two veterans, who have at various times this season looked their age.